13/AA POWERTWIST DUAL (Double-Sided)
Link Open-Ended V-Belt
Price on request The belt price is calculated after receiving information about availability and up-to-date prices from our suppliers. Please, write down required amount and send a Question about the Product or just order the belts. The price and shipping conditions will be sent on your e-mail address. After your confirmation the goods will be ordered from the supplier.
Out of stock, we usually ship within 2 weeks Usual time this product is ready for shipping. Actual availability may vary due to unforeseen circumstances in exceptional cases.
Belt Parameters
Profile:
13/AA
Profile
Multiple belts: profile – no. of ribs. Caution! The number of ribs refers to the number of belt protrusions = the number of teeth on the pulley!
Délka L2 (mm):
role 30m
Length L
Li - inside lenght, Ld - pitch length, La - outside length, Le - effective length. Timing belts z = no. of teeth.
Material:
Polyamide
Material
In the TYMA Product Catalogues you can find this material also described with the abbreviation PA.
Belt Description
13/AA POWERTWIST DUAL (Double-Sided) are the link V-Belts linked from individual links into endless belts of any length. The belts have a special construction, the individual links are made of custom polyurethane elastomers reinforced with multiple plies of polyester fabric. The belts are characterized by long service life, high temperature and chemical resistance.
Belt Construction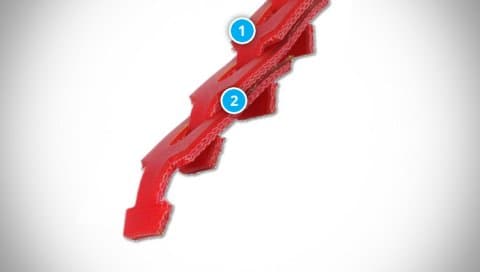 Polyurethane elastomer
Reinforced with multiple plies of polyester fabric
Belt Fields of Use
Link V-belts are used where conventional endless V-Belts cannot be used due to technical reasons, where it is necessary to mount the belt directly on the machine. They are suitable as spare belts, which can replace any length of V-Belt.
They are also used in conveyor systems and equipment where specific temperature or chemical resistance is required.
Belt Characteristics
High power transmission
High durability, low maintenance costs
Use of standardized SPZ, SPA, SPB, SPC pulleys
Resistant to oil and various chemicals
Temperature resistance from −40 °C to +105 °C
Possibility of delivery of any length from the roll
Documents for Download
TYMA CZ Data Sheets
Czech and English (PDF 229.11 kB)
TYMA CZ Catalogue
Czech and English (PDF 4.54 MB)