610 PJ - Sleeve CONTI-V MULTIRIB
Poly-V-Belt
Price for you :
Price without VAT: 2.74€
Price including VAT: 3.31€ with VAT
Catalogue price excluding VAT:
2.76€
The product is custom-made from a semi-finished product. It cannot be returned or replaced. In accordance with the provisions of § 1837, letter d) of Act No. 89/2012 Coll., the Civil Code (hereinafter referred to as the "Civil Code"), the consumer may not withdraw from a contract of purchase in the sense of the provisions of § 2079 et seq. of the Civil Code, if it concerns a contract on delivery of goods that have been adjusted by request of the consumer or for the consumer, concluded by means of remote communication.
In Stock We update the stock availability information every 2 hours.

The goods we have in stock are usually ready for shipping or personal collection no later than the next working day. In case of personal collection, please do not come to pick the goods up before we contact you that the goods are ready.
Belt Parameters
Profile:
PJ
Profile
Multiple belts: profile – no. of ribs. Caution! The number of ribs refers to the number of belt protrusions = the number of teeth on the pulley!
Délka L2 (mm):
1
Length L
Li - inside lenght, Ld - pitch length, La - outside length, Le - effective length. Timing belts z = no. of teeth.
Material:
Natural Rubber
Material
In the TYMA Product Catalogues you can find this material also described with the abbreviation NR.
Belt Description
610 PJ - Sleeve CONTI-V MULTIRIB is a classic V-ribbed belt for transmissions with small pulley diameters, large transmission ratio, high speeds and two-sided belt bending manufactured according to ISO 9982 (DIN 7867).
The belts combine the high flexibility of flat belts with the first-rate power transmission of V-belts. These belts enable economic solutions even under difficult drive conditions, such as large transmission ratios, high belt speeds, serpentine drives, small pulley diameters and flexing/reverse tensioning idlers.
Belt Construction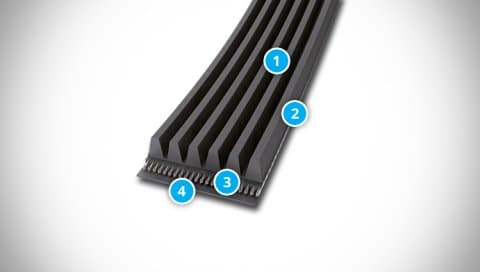 Synthetic rubber ribs
Embedding compound
Polyester tension member
Polyamide cover fabric
Belt Fields of Use
The CONTI-V MULTIRIB profile PK V-ribbed belts are ideal for serpentine drives and large transmission ratios. They cover an extremely wide spectrum of applications, ranging from household appliances, tools, automotive industry to heavy-duty industrial machinery.
Belt Characteristics
High transmission power and long life, almost vibration-free operation
High permissible peripheral speed up to 60 m/s
Implementation of large gear ratios
Temperature resistance from −30 °C to +80 °C
Electrically conductive a according to ISO 1813
Belt Certification
Notice
General factory certificates are not sufficient for belts used in potentially explosive atmospheres.
If a test report according to ISO 1813 and ISO 9563 is required for the application, it is necessary to inform us of the request for delivery of belts including the certificate when ordering them (when ordering belts via Eshop, please write this request in the "Note" field before by sending the order). The certificate is issued by ContiTech after the test in the production plant.
Documents for Download
Belt Manufacturer Profile
Continental is the world's largest specialist for rubber and plastics technology in the non-tire rubber sector. A division of Continental AG, the company develops and produces functional parts, components and systems for the automotive and other important industries.
ContiTech importance on immediate proximity to customers. ContiTech is active in 26 countries with 75 production sites and more than 40 R&D facilities and sales organizations. The customers around the world stand to profit: Greater safety. Higher efficiency. Closer proximity.
TYMA CZ, s.r.o., is the official distributor of Continental ContiTech Power Transmission Group.