Cardan Shaft
Cardans and propeller shafts are used to transfer power between nesouosými and mimoběžnými shaft.

We provide you with the design, delivery and service cardans and of propeller shafts. We also supply spare parts cardan shafts, crosses, bearings, flanges.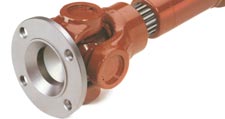 Basic assortments:
shafts,

joints

and propeller shafts




spare parts

, crosses,

bearing




custom manufacturing

and repair of

propeller shafts

according to customer specifications
Caution
Items in this group are not part of the Eshop. Prices and delivery terms will be provided via email.
Please enter desired item, design and quantity, and you can send queries using the Inquiry form below.