QD Bushes (USA)
QD Bushes (inch and metric sizes) with a flanged design and finished bore and keyway to fixing components to shaft without using any special tools.
Warning
Items in this group are not part of the Eshop. Prices and delivery terms will be provided via email.
Please enter desired item, design and quantity, and you can send queries using the Inquiry form below.
More Information about QD Bushes (USA)
Typizovaná kuželová pouzdra podle amerického standardu pro upevnění řemenic, řetězových kol, hřídelových spojek a dalších součástí na hřídele.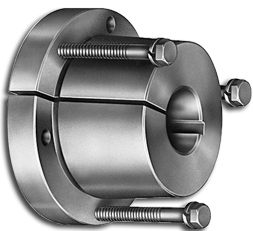 Pouzdro má kuželový vnější povrch a válcovou vnitřní díru v toleranci H7 včetně normalizované drážky na pero. Po upevnění je součást schopna přenášet kroutící momenta a zároveň je zajištěna proti axiálnímu posunutí.
Základní profily, provedení a rozměry:
Pouzdra se vyrábí v typizované řadě od QT do W pro díry od 3/8" do 9 1/4".
Značení:
Pouzdro SH 5/8
SH - pouzdro QD, velikost pouzdra, 5/8 - velikost vnitřní díry v palcích
Oblasti použití:
Pro všechny druhy standardní klínových, ozubených, plochých řemenic, řetězových kol, nábojů pro Taper pouzdra a vybrané typy hřídelových spojek a dalších součástí.
POZOR ! - Pouzdra palcové rozměry vč. závitů.
Soubory ke stažení:
(inch and metric sizes)