Connector Link 08A-3 DIN 8188 IWIS - Spring Clip
Roller Chain
Price for you :
Price without VAT: 3.56€
Price including VAT: 4.31€ with VAT
Catalogue price excluding VAT:
3.61€
Out of stock, we usually ship within 2 weeks Usual time this product is ready for shipping. Actual availability may vary due to unforeseen circumstances in exceptional cases.
Chain Parameters
Profile:
08A-3
Profile
Multiple belts: profile – no. of ribs. Caution! The number of ribs refers to the number of belt protrusions = the number of teeth on the pulley!
Délka L2 (mm):
1/2x5/16
Length L
Li - inside lenght, Ld - pitch length, La - outside length, Le - effective length. Timing belts z = no. of teeth.
Material:
Steel
Material
In the TYMA Product Catalogues you can find this material also described with the abbreviation ST.
Chain Description
Connector Link 08A-3 DIN 8188 IWIS - Spring Clip is dedicated for the most common type of drive chains. They are standardized according to DIN 8188 - American series ASA, ANSI.
Standard chain designs are simplex, duplex or triplex. The chain consists of outer links with pins and inner links with bushes on which rotating rollers are fitted.
Chain Construction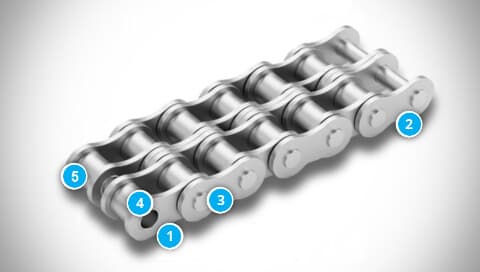 Inner link
Outer link
Pin
Bush
Roller
Chain Fields of Use
Roller chains 08A according to DIN 8188 are designed for general use in light and heavy industry.
They are used in drives, but they can be fitted with attachments to transport material.
Chain Material
Steel.
Documents for Download