CONTI VSM-MINI Belt Tension Tester
Measuring Instrument
Price on request The instrument price is calculated after receiving information about availability and up-to-date prices from our suppliers. Please, write down required amount and send a Question about the Product or just order the instruments. The price and shipping conditions will be sent on your e-mail address. After your confirmation the goods will be ordered from the supplier.
Sold Out The goods are currently unavailable. We do not have information about the date of its future availability yet. Therefore, it is not possible to order.
Instrument Description
The VSM MINI is a compact instrument for checking the belt tension. It can be mounted on the belt strand using an O-ring or the enclosed adhesive tack. The belt is then manually plucked to produce oscillations that are measured by an acceleration sensor.
Video Tutorial
Documents for Download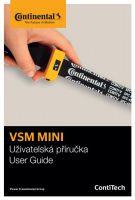 ContiTech User Guide
Czech and English (PDF 3.23 MB)
TYMA CZ Product Overview
Czech and English (PDF 496.29 kB)
Manufacturer Profile
Continental is the world's largest specialist for rubber and plastics technology in the non-tire rubber sector. A division of Continental AG, the company develops and produces functional parts, components and systems for the automotive and other important industries.
ContiTech importance on immediate proximity to customers. ContiTech is active in 26 countries with 75 production sites and more than 40 R&D facilities and sales organizations. The customers around the world stand to profit: Greater safety. Higher efficiency. Closer proximity.
TYMA CZ, s.r.o., is the official distributor of Continental ContiTech Power Transmission Group.