BEHAbelt Flex PJ Elastic Poly-V-Belts for Roller Conveyors
BEHAbelt Flex (for Roller Conveyors) PJ elastic polyurethane V-ribbed belts are designed for drives with fixed center distances without tensioning pulley.
Caution
Items in this group are not part of the Eshop. Prices and delivery terms will be provided via email.
Please enter desired item, design and quantity, and you can send queries using the Inquiry form below.
Belts Fields of Use
The BEHAbelt Flex® V-ribbed belts are used especially in roller conveyors, conveyor tracks and other special applications.
Documents for Download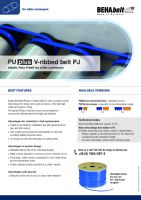 BEHAbelt Product Overview
English (PDF 1.22 MB)
TYMA CZ Catalogue
Czech and English (PDF 4.54 MB)
Belt Manufacturer Profile
Beha Innovation GmbH is a German company based in Glottertal, Germany. They extrude a complete line of the highest quality Polyurethane and Polyester profiles and conveyor belts for transport and drive applications.
True to the motto "smart conveying", BEHA has been supplying innovative drive and conveying technology products since 1974. They provide quick and accurate service through their worldwide distribution network.