Taper Bore Timing Pulleys L, H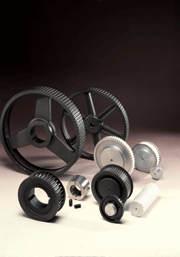 Taper Bore Timing pulleys L, H for timing belts with trapezoidal profiles and inch pitch. Pulleys conform to DIN ISO 5294, DIN 7721.
Profiles and dimensions:
Application:
- L for belts L with pitch 9,525 mm
- H for belts H with pitch 12,70 mm
Material:
Steel C45, 9 SMn 28K, 9 SMnPb 28 K
Grain cast iron GG20-25
Aluminium alloy AlCuMgPb
Plastic PA6 and 6,6 or POM
Surface roughness: ISO 254
Balance quality grade: ISO 1940 - VDI 2060
Cast iron pulleys at v < 30 m/s must be balanced.
Product code:
30 H 100
30 - teeth, H - profile, tooth pich, 100 - belt widht in inches 1" = 25,4 mm
Downloads: