TK Barrel Couplings
TSCHAN TK barrel couplings for installation in crane lifting mechanisms, to connect the cable drum with the gearbox output shaft.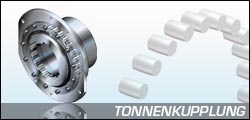 Properties:
Torsionally rigid couplings
Compensates for angular, parallel and axial shaft misalignments of the connected machines
Max. coupling size - 850mm
Max. finished bore - 400mm
Nominal torque of coupling up to TKmax = 685 000 Nm
Areas of application:
Cranes

Systems

for

manipulation

in stores
Downloads:
Warning
Items in this group are not part of the Eshop. Prices and delivery terms will be provided via email.
Please enter desired item, design and quantity, and you can send queries using the Inquiry form below.