DSTD DS4.5M Double-Sided Timing Belts
DSTD DS4.5M double-sided timing belts have been designed for drives with reversing direction of rotation.
They can be used in all performance areas. The standard design allows economical solutions for double-sided synchronous power transmission in the lower and middle power range. The CXP version has been designed for high power and speed. The CXA version has been developed for high torques.
Belt Structure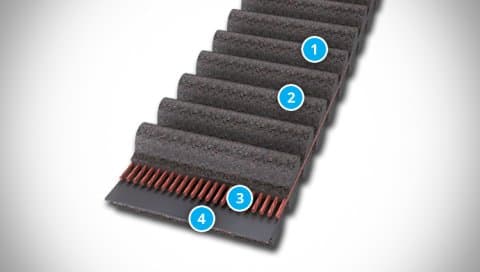 Polyamide fabric
Synthetic rubber teeth
Glass cord tension member
Synthetic rubber backing
Belt Fields of Use
The double-sided timing belts profile DSTD DS4.5M are suitable for synchronous drives with same-sense and counterrotating motion. They allow compact space and weight-saving drives with an efficiency of up to 98 %.
Belt Characteristics
High transmission power and long life
Conditionally resistant to oil
Suitable for tropical climates
Electrical conductivity according to ISO 9563 for high performance variants
Temperature range depending on application, from -20 °C to +100 °C
Belt Code Description
DSTD 1200 - DS04,5M - 20
DSTD - profile, 1200 - length in mm, DS04,5M - tooth pitch, 20 - width in mm
Documents for Download
Belt Manufacturer Profile
Japanese company Bando has been a pioneer in the non-tire rubber and plastics industries since their founding in 1906, responding to customer needs with new technology and product development.
Over the years Bando have expanded upon their core business to meet the ever-changing needs of the times, and they now produce a wide range of products. They now serve their customers worldwide from more than 10 countries in Asia, North America and Europe.