Arrow-Shaped SILENTSYNC/EAGLE Polyurethane Open-Ended Timing Belts
Arrow-Shaped (SILENTSYNC/EAGLE) PU Open-Ended polyurethane timing belts in SILENTSYNC/EAGLE profile.
They are manufactured with the teeth and bottom from thermoplastic polyurethane with excellent wear resistance and with high tensile strength steel tension member, in special cases with kevlar or stainless steel tension member. The open-ended belts can be welded into endless belts.
Warning
Items in this group are not part of the Eshop. Prices and delivery terms will be provided via email.
Please enter desired item, design and quantity, and you can send queries using the Inquiry form below.
Belt Structure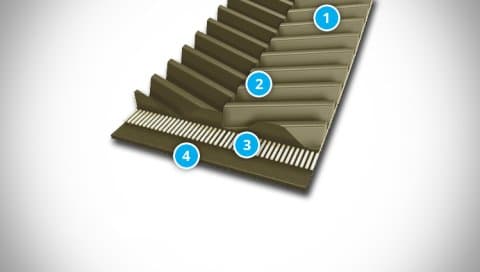 Specially treated fabric
Synthetic rubber teeth
Aramid tension member
Synthetic rubber backing
Belt Fields of Use
SILENTSYNC polyurethane timing belts are used in special applications where a self-guiding belt that is not guided in the guide line or by pulley flanges is required. At the same time, these belts have significantly lower noise and vibration than other profiles with straight-cut teeth.
Belts are used in high-precision positioning and sorting applications, single-purpose machines, woodworking, packaging and food processing machines.
Belt Characteristics
High transmission power and durability
Temperature range, depending on application, from -30 °C to +130 °C
Antistatic in accordance with ISO 9563
Very low-noise
Extremely low vibration
Resistant to aging and ozone
Maintenance-free
Conditionally resistant to oil
Documents for Download