PU Welded Timing Belts
Polyurethane welded timing belts are obtained from open-end belts. They are jointed on special machines. Their body consists of thermoplastic polyurethane reinforced with a steel tension member, in special cases with kevlar or stainless steel member. Various surface layers and attachments can be welded or glued on the belts.

Areas of application:
Polyurethane welded timing belts are used in all areas of industry as transport timing belts, linear drives, positioning and lifting devices.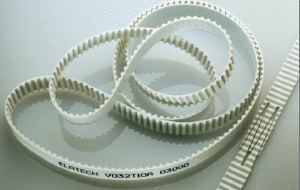 Properties:
- high power transmission, long service life
- oil, petrol, benzol, UV radiation and ozone resistance
- abrasion resistance, maintenance free
- temperature resistance from -30 °C to +80 °C, depending on application
Profiles and dimensions:
Polyurethane welded timing belts are manufactured in many profiles. Their use depends on the level of transmitted power, speed and type of application. The minimum length is about 700 mm, depending on the profile, the maximum length is not limited.
Product code:
50T10 - 8920 V + Linatex 2,0mm
50 - belt width in mm, T10 - belt profile, 8920 - belt length in mm, V - welded, Linatex 2,0mm - surface layer
Documents for Download:
Warning
Items in this group are not part of the Eshop. Prices and delivery terms will be provided via email.
Please enter desired item, design and quantity, and you can send queries using the Inquiry form below.