17x1295 La BX48-GL Gold Label
Classic Raw Edge V-Belt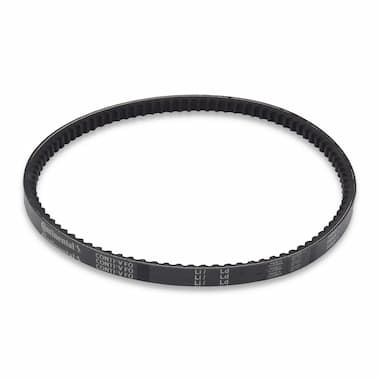 Price for you:
Price without VAT: 9.60EUR
Price including VAT: 11.62EUR with VAT
Catalogue price excluding VAT:
9.77EUR
Belt Parameters
Profile:
17/BX
Profile
Multiple belts: profile – no. of ribs. Caution! The number of ribs refers to the number of belt protrusions = the number of teeth on the pulley!
Délka L2 (mm):
1295,00La
Length L
Li - inside lenght, Lw - pitch length, La - outside length, Le - effective length. Timing belts z = no. of teeth.
Material:
NR
Material
NR - natural rubber, CR, NBR, H-NBR, EPDM - elastomer rubber, PU - polyurethan, ST – steel, SS – stainless steel.
Belt Description
17x1295 La BX48-GL Gold Label CONTI V® FO raw-edge classical-section V-Belts with molded teeth to DIN 2215 for demanding drives.
They are made of highly durable rubber compound and a special tension member. Their optimized flanks provide better friction coefficient and the molded teeth ensure higher flexibility.
Belt Structure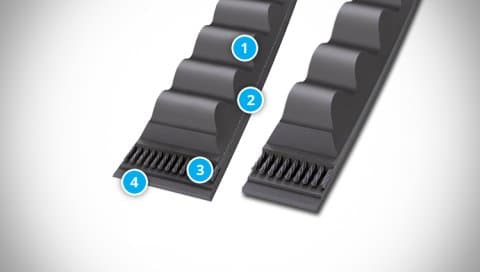 Synthetic rubber bottom section
Embedding compound
Polyester tension member
Cotton cover fabric
Belt Fields of Use
The CONTI V® FO profile 17/BX V-Belts are used for high-speed industrial drives as an alternative to wrapped V-Belts to increase service life and reduce the number of belts in sets.
They are used in all areas of mechanical engineering, especially for compact drives with small dimensions, such as compressors, fans, mowers, machine tools and many other applications.
Belt Characteristics
High peripheral speed up to 50 m/s

(classic only up to 30 m/s)
Very good flexibility thanks to molded teeth
Matched set L=L (from 1000 mm)
Temperature range from -30 °C to +70 °C
Electrically conductive in accordance with ISO 1813
Conditionally resistant to oil
Suitable for tropical climates
Dust-proof
Documents for Download