3V0850 - 9N2159
Narrow V-Belt
Price for you:
Price without VAT: 15.02EUR
Price including VAT: 18.18EUR with VAT
Catalogue price excluding VAT:
15.32EUR
Belt Parameters
Profile:
3V/9N
Profile
Multiple belts: profile – no. of ribs. Caution! The number of ribs refers to the number of belt protrusions = the number of teeth on the pulley!
Délka L2 (mm):
2159,00La
Length L
Li - inside lenght, Lw - pitch length, La - outside length, Le - effective length. Timing belts z = no. of teeth.
Brand:
-
Brand: -
This standardized product may come from different manufacturers. We will provide you with the currently supplied brand upon request.
Material:
NR
Material
NR - natural rubber, CR, NBR, H-NBR, EPDM - elastomer rubber, PU - polyurethan, ST – steel, SS – stainless steel.
Belt Description
3V0850 - 9N2159 profile CONTI V® wrapped narrow-section V-Belts according to US standard RMA/MPTA for powerful, sustained power transmission.
They are made of highly durable rubber compound and a special tension member, which ensures long service life, high efficiency, high temperature and chemical resistance.
Belt Structure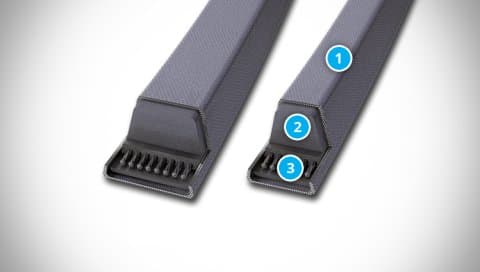 Fabric jacket
Natural rubber
Polyester tension member
Belt Fields of Use
The CONTI V® profile 3V/9N wrapped V-Belts meet the strongent requiremets of modern drive technology and pave the way for new applications in all areas of mechanical engineering from precision mechanics to heavy machine construction.
Typical application fields include compressors, fans, crushers, paper and chemical industry, cement works, mining and many other areas.
Belt Characteristics
High power transmission

(up to 50% more than a classical V-belts)
High durability, low maintenance costs
Moderate oil-resitance and unaffected by tropical climates
Suitable for temperatures ranging from -55 °C to +70 °C
Electrically conductive according to ISO 1813
Dust-resistant
Documents for Download