CONTI-V 5, 6/Y, 8 V-Belts
5, 6/Y, 8 CONTI V® profile wrapped classical-section V-Belts to DIN 2215 for demanding drives in every mechanical engineering field.
They are made of highly durable rubber compound and a special tension member, which ensures long service life, high efficiency, high temperature and chemical resistance.
Belts Construction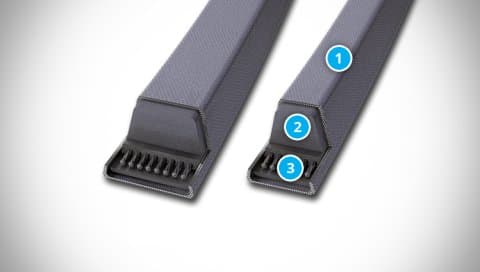 Fabric jacket
Natural rubber
Polyester tension member
Belts Fields of Use
The CONTI V® profile 5, 6/Y, 8 wrapped V-Belts are used for demanding drive applications in mechanical engineering.
They are especially suitable for drives with small pulley diameters and for economical drive solutions.
Belts Characteristics
High durability and low maintenance costs
Electrically conductive according to ISO 1813
Moderate oil-resistance and unaffected by tropical climates
Suitable for temperatures ranging from -55 °C to +70 °C
Dust-resistant
Belt Code Description
Example:
5×260 Li X 79 CONTI-V
| Code Part | Description |
| --- | --- |
| 5 | Profile |
| 260 Li | Inside length in mm |
| X | Cooged belts |
| 79 | Belt length in inch |
| CONTI-V | Type of belt |
Documents for Download
TYMA CZ Data Sheets
Czech and English (PDF 261.91 kB)
TYMA CZ Catalogue
Czech and English (PDF 4.54 MB)