BB1415 Le BB53 Double V-belt
Double V-Belt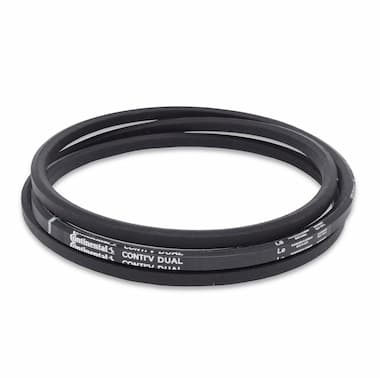 Price for you:
Price without VAT: 43.61EUR
Price including VAT: 52.77EUR with VAT
Catalogue price excluding VAT:
44.48EUR
Belt Parameters
Profile:
BB/17x13
Profile
Multiple belts: profile – no. of ribs. Caution! The number of ribs refers to the number of belt protrusions = the number of teeth on the pulley!
Délka L2 (mm):
1374Li
Length L
Li - inside lenght, Lw - pitch length, La - outside length, Le - effective length. Timing belts z = no. of teeth.
Brand:
-
Brand: -
This standardized product may come from different manufacturers. We will provide you with the currently supplied brand upon request.
Material:
NR
Material
NR - natural rubber, CR, NBR, H-NBR, EPDM - elastomer rubber, PU - polyurethan, ST – steel, SS – stainless steel.
Belt Description
Double-sided V-belts CONTI V® DUAL profile BB/17 combine temperature and oil resistance with antistatic features. The double V-profile of the belt according to ISO5289 makes it suitable for dirves with an S-bend and in which both sides of the belt haveto be used for transmitting power. Each side of double-sided V-belts transmit about 50% of power as the classic V-belt in the same profile.
Documents for Download