Link V-Belts
Made from custom polyurethane elastomers reinforced with multiple plies of polyester fabric, Link V-Belts are problem-solving alternatives to conventional endless wrapped rubber V‑belts of classical and metric SP wedge cross sections.
The product range is comprised of PowerTwist Plus and NuTLink V-Belts for classical section drives and SuperTLink V‑Belts for applications using metric wedge SP rated belts.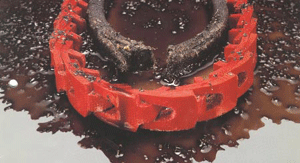 Areas of application:
Link V‑Belts are engineered to maintain the optimal belt tension throughout the belt's life. By eliminating the need to re-tension, you can expect reduced labor cost and increased unit efficiency.
Properties:
- The everyday industrial workhorse
- Perfectly suited to Z/10, 3L, A/13, B/17 and C/22 drives
- The upgrade for traditional rubber V-belts
- usage of standartized pulleys SPZ, SPA, SPB, SPC
- resistant to oil and various chemicals
- resistant to temperatures from -40°C to +105°C
- available supply of any lenght
Profile:
The product range is comprised of PowerTwist Plus in profiles 10/Z, 13/A, 17/B, 22/C a 32/D* and NuTLink V-Belts for classical section drives 8*, 10/Z, 13/A, 17/B, 22/C a 32/D* and SuperTLink V‑Belts for applications using metric wedge SP rated belts. (*non standard, only on demand)
Product code:
13/A PowerTwist - 10m
13/A - profil; PowerTwist - type, 10m - length
Profiles and length range:
| | |
| --- | --- |
| Profile | Length of roll in metres |
| 10/Z | 20m |
| 13/A | 20m |
| 17/B | 20m |
| 22/C | 20m |
| 3V | 20m |
| 5V | 20m |
| 8V | 20m |
Soubory ke stažení: