Connector Open-Ended V-Belts
ROFLEX ROCON Connector open-ended V-belts are punched open-ended V-belts that can be connected by mechanical connectors to endless belts of any length.
Products are sorted by name in ascending order.
Products are sorted by name in ascending order.
Belts Construction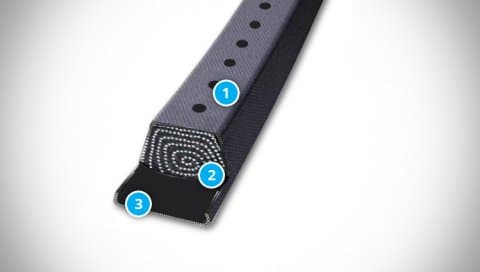 Belt perforation
Spiral tension member
Natural rubber
Belts Fields of Use
Connector Open-Ended V-belts are used where conventional endless V-belts cannot be used due to technical reasons, where it is necessary to mount the belt directly on the machine. They are suitable as spare belts, which can replace any length of V-belt. They are also used in conveyor systems.
Belts Characteristics
Transfer about 50% of the performance of a classical V-belt
High flexibility, couplings directly on the machine
Use of standardized SPZ, SPA, SPB, SPC pulleys
Temperature resistance from −40 °C to +70 °C
Possibility of delivery of any length from roll
Moderate oil-resistant
Electrically conductive according to ISO 9563
Belts Code Description
Example:
17/BB (Double-Sided, 17 × 14 mm, green)
| Code Part | Description |
| --- | --- |
| 17/BB | Profile |
| Double-Sided | Type |
| 17 × 14 mm | Width x Height in mm |
| Green | Standard |
Notice
Perforated V-belts are manufactured in accordance with DIN 2216 in profiles 8*, 10/Z, 13/A, 17/B, 22/C and 32/D* (* not standard, only to order).
Belts are connected by fixed or articulated couplings of appropriate profile size.

Documents for Download
TYMA CZ Data Sheets
Czech and English (PDF 173.52 kB)
TYMA CZ Catalogue
Czech and English (PDF 4.54 MB)