Polyurethane Open-Ended V-Belts
PU Open-Ended round and V-Belts are welded into conveyor and drive belts of any length. The belts are made of highly durable plastic, some types are also reinforced with a tension member. They are characterized by high strength, long service life, high temperature and chemical resistance.
Polyurethane V-Belt
Price per 1 m: We sell in 50 m package. For easy comparison with alternative products, we present the price per 1 m.
5.53€ excl. VAT
6.69€ incl. VAT
Polyurethane V-Belt
Price per 1 m: Made from a 50 m package. The final price will be calculated by the formula:

Number of units × Unit price + Price for division

Price for division excluding VAT: 1.15 €
7.18€ excl. VAT
8.69€ incl. VAT
Belts Construction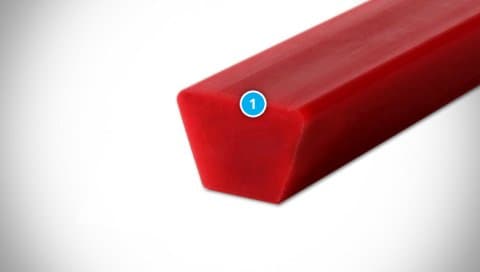 Polyurethan or polyester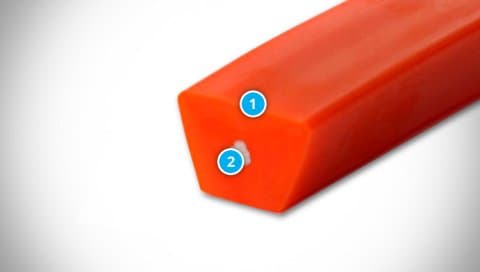 Polyurethan or polyester
Polyester, glass or aramid tension member
Belts Fields of Use
The belts are used as drive or transport belts in many industrial branches, especially with small and medium loads. The most common applications are transport belts in the glass, ceramic or food industry. The belts can be connected with special tools directly on the machine. It is possible to make practically any length of the belt.
Belts Characteristics
High tensile strength and abrasion resistance
Excellent weldability, possibility of joining the piece
Resistance to oils, greases, pollution and chemicals
Temperature resistance from -30 °C to +80 °C
Can be used in the food industry
Belts Material
The PU belts are produced in different hardnesses of the material, which are simply differentiated by colors.
Basic profiles are round and wedge. Besides these, there are many other variants.
| Material | Colour |
| --- | --- |
| PU 75 A (80° Shore A) | red |
| PU 80 A (84° Shore A) | transparent/natural |
| PU 85 A (88° Shore A) | green/yellow |
| PU 90 A (92° Shore A) | white |
| Polyester 40 D (cca 92° Shore A) | beige |
| Polyester 55 D (cca 98° Shore A) | blue/beige |
Profiles and dimensions
Profile
Dimension in mm
Circular smooth

Diameter

2.0 - 20.0
Circular rough

Diameter

2.0 - 20.0
Circular hollow

Diameter

4.8 - 15.0
Circular with reinforcement

Diameter

6.0 - 20.0
Wedge smooth
6×4 - 32×20
Wedge with reinforcement
8×5 - 22×14
Belt Code Description
Example:
PU circular 3.0 PU 85 A green
| Code Part | Description |
| --- | --- |
| PU circular | Profile |
| 3.0 | Diameter in mm |
| PU 85 A green | Material and colour |
Documents for Download
TYMA CZ Data Sheets
Czech and English (PDF 282.63 kB)
TYMA CZ Catalogue
Czech and English (PDF 4.54 MB)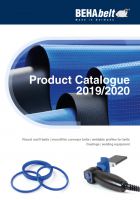 BEHAbelt Catalogue
English (PDF 16.81 MB)