XPC 4060 Ld CONTI-V FO ADVANCE
V-Belt
Price for you :
Price without VAT: 99.11€
Price including VAT: 119.92€ with VAT
Catalogue price excluding VAT:
101.10€
In Stock We update the stock availability information every 2 hours.

The goods we have in stock are usually ready for shipping or personal collection no later than the next working day. In case of personal collection, please do not come to pick the goods up before we contact you that the goods are ready.
Parameters
Profile:
XPC
Profile
Multiple belts: profile – no. of ribs. Caution! The number of ribs refers to the number of belt protrusions = the number of teeth on the pulley!
Délka L2 (mm):
4090,00La
Length L
Li - inside lenght, Ld - pitch length, La - outside length, Le - effective length. Timing belts z = no. of teeth.
Material:
Natural Rubber
Material
In the TYMA Product Catalogues you can find this material also described with the abbreviation NR.
Description
XPC 4060 Ld CONTI-V FO ADVANCE is a narrow V-belt with high transverse stiffness for permanent and reliable transmission of high power and revolutions cut according to ISO 4184 (DIN 7753).
Construction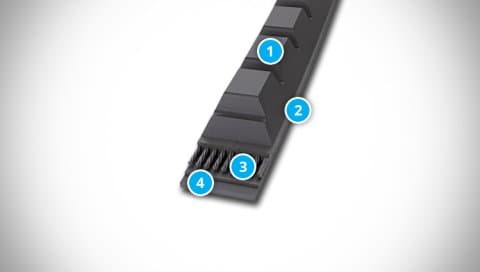 Fiber-reinforced synthetic rubber bottom section
Embedding compound
Polyester tension member
Cotton cover fabric
Fields of Use
The CONTI-V FO ADVANCE heavy-duty V-Belts meet the strongent requiremets of modern drive technology and pave the way for new applications in all areas of mechanical engineering.
Characteristics
High power transmission (up to 3× higher than classical V-belts)
High peripheral speed up to 50 m/s (classical only up to 30 m/s)
Design L = L - constant tolerance of belts in the set, minimum extension

Use of standardized SPZ, SPA, SPB, SPC pulleys

Suitable for temperatures ranging from -30 °C to +90 °C (classical only up to 70 °C)
Belt lengths up to 5,000 mm (customized up to 6,700 mm)
Antistatic properties according to ISO 1813
Documents for Download
Manufacturer Profile
Continental is the world's largest specialist for rubber and plastics technology in the non-tire rubber sector. A division of Continental AG, the company develops and produces functional parts, components and systems for the automotive and other important industries.
ContiTech importance on immediate proximity to customers. ContiTech is active in 26 countries with 75 production sites and more than 40 R&D facilities and sales organizations. The customers around the world stand to profit: Greater safety. Higher efficiency. Closer proximity.
TYMA CZ, s.r.o., is the official distributor of Continental ContiTech Power Transmission Group.