SPC VTP - High Speed V-Belt Pulleys
SPC High Speed VTP (Ventilated Turbo Pulley) V-belt pulleys are special V-belt pulleys. They are made of cast iron GGG 50.
Compared to common gray cast iron pulleys, they have significantly better properties, higher strength and durability, lower weight, higher peripheral speed.
The pulleys are mounted to the shafts using the Taper bushes.
Pulleys Fields of Use
The VTP® V-belt pulleys are designed for the highest peripheral speeds in all areas of engineering, especially for applications with high temperature, alternating and impact load, and wherever the conventional cast iron V-belt pulleys cannot be used.
They are typically used in compressors, blowers, machine tools, in the paper and chemical industry and in many other machines.
Pulleys Characteristics
Up to 50% lower weight
Increased peripheral speed up to 60 m/s (theoretically up to 100 m/s)
Lower moments of innertia
Longer V-belt life-span
Made of cast iron quality GGG 50 of higher strenght
New CDP (KTL) coating improves rust protection
Decreased temperature of the belts - up to 17 °C
Pulleys Material
Cast iron GGG 50.
Pulleys Code Description
Example:
SPC 630/4 VTP TB 3525
| Code Part | Description |
| --- | --- |
| SPC | Profile |
| 630 | Nominal diameter of pulley in mm |
| 4 | Number of grooves |
| VTP | Ventilated Turbo Pulley high speed |
| TB | Taper bush |
| 3525 | Type of Taper busch |
Documents for Download
TYMA CZ Data Sheets
Czech and English (PDF 450.78 kB)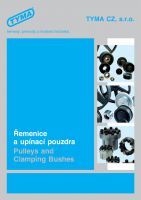 TYMA CZ Catalogue
Czech and English (PDF 3.64 MB)