Specialised


Supplier

We provide complete service in the area of belt and chain drives, conveyor belts, couplings and other drive components for industrial application. We provide technical support and service.

Quality


Supplier

Our focus is on quality. We implement a quality management system ISO 9001:2009. We supply only quality products from reputable manufacturers. We do not cut costs at the expense of quality.

Flexible and Reliable


Supplier

We have short delivery times and keep in stock a large number of standard products. Our network of sales representatives are able to resolve any matter with you, directly.

Professional


Supplier

We are a direct partner with Europe's largest belt manufacturer Continental ContiTech. We provide technical information, calculations, designs, measurements and check of belt drives and transmissions.
Who We Are
TYMA CZ – Belts and Transmission Systems
Welcome to the website of TYMA CZ, s.r.o.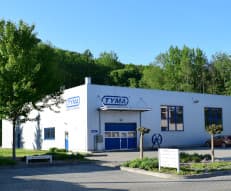 We are a specialised supplier of machine parts, such as drive and conveyor belts, pulleys, chains, sprockets, shaft couplings, bearings, rollers and more.
TYMA CZ, s.r.o. is a Czech family-owned company that has long been among the largest suppliers of belts and drive components in Czechia. We provide services throughout the country, we export worldwide. We represent Continental ContiTech belts as well as other manufacturers.
more information
What We Offer
What We Offer
We offer a complete product range in the area of mechanical transmissions:

drive and conveyor belts, pulleys, clamping bushes, chains, sprockets, couplings, bearings, rollers and more.

We provide design and calculation of transmissions.

Belt calculation via ContiTech Suite program. Design of belts and pulleys, drive chains, shaft couplings. Consultation, advisory services, training.

We provide service for flat and conveyor belts.

We manufacture and guarantee flat and conveyor belt assembly and connection, including dealing directly with our customers.

We manufacture and supply custom-made belts, pulleys, sprockets and couplings;

and belts with layered surfaces. We provide lathe work, grooving, balancing components and surface treatment of metal parts.
Why TYMA CZ
Why TYMA CZ
We strive to be a long-term partner with our customers in many branches of the industrial sector. We want to provide complete service in the areas of transportation and linear technology with regards to drive belts and chains, and shaft couplings. For us, it is not just about supplying drive components at the lowest price.

We cooperate in service monitoring of transmission parts, address shortcomings during operation, and provide consulting services and analysis of failure causes of belts, chains and other parts.
Who We Represent
Who We Represent
Our company, TYMA CZ, is an authorised distributor of renowned manufacturers.
News

2023-11-01
A quarter of a century has passed since we started offering our services to you. In this article, for example, we look back at the beginnings of our company.

2023-10-02
The new ContiTech industrial belt names will replace many of the well-known and long-established product line names on the market.

2023-09-11
Round, V-shaped and other belt profiles made of highly resistant BEHA polyurethane or polyester intended for welding in conveyor or drive belts of any length.
news archive