Technical Information about Belt Materials
Knowledge of belt materials – their physical and chemical properties, durability – is a very important prerequisite in selecting a suitable belt to be applied to machine devices. Modern belts are made from special materials and reinforced fibres, which give them the necessary properties and durabilty.
Basic Materials of Belt Manufacturing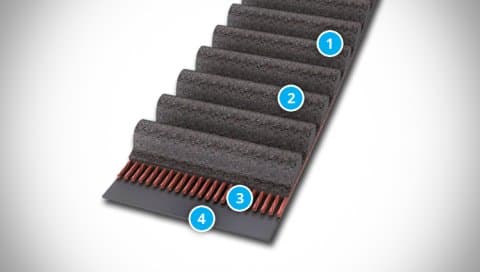 Woven fabric
Compound rubber or polyurethane teeth (according to belt type)
Reinforced fibres
Compound rubber or polyurethane backing (according to belt type)
Rubber
Basic materials in the manufacture of power transmission belts are natural rubber or a blend of synthetic rubbers.
Applications of natural and synthetic rubber: vehicle tires, hoses, belts and conveyor belts, sealants, gaskets, rings, elastic inserts, bags, helmets, etc.
Basic Materials Designation
| Basic Materials – Technical Name | Abbreviated Designation |
| --- | --- |
| Natural rubber | NR, NK |
| Acrylonitrile Butadiene | NBR, HNBR |
| Polychloroprene | CR |
| Etylene Propylene Diene Monomer | EPDM, EPM |
| Epichlorohydrin | ECO |
| Polybutadiene | BR |
| Styrene Butadiene | SBR |
| Hydrogenated Nitrile Butadiene | HNBR |
| Polyacrylate | ACM |
| Silicone | MQ, MVQ |
| Fluorosilicone | MFQ |
| Polyester Urethane | AU |
| Fluorocarbon, Fluoronated Hydrocarbon | FPM, FKM |
| Isobutylene Isoprene Butyl | IIR |