New CONTI SYNCHROCHAIN SUPREME
Polyurethane timing belts combining extremely high strength and durability with antistatic properties.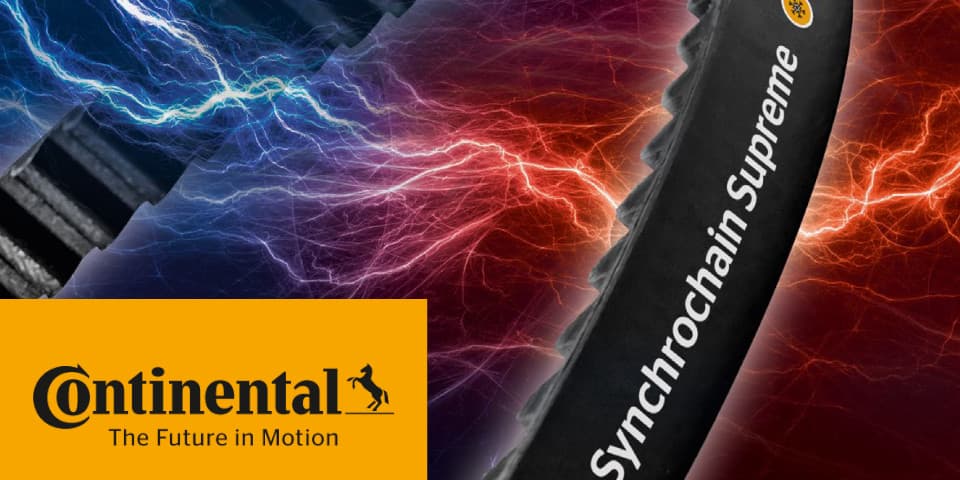 Continental ContiTech has added a novelty to its production program. CONTI SYNCHROCHAIN SUPREME polyurethane timing belts combine extremely high load capacity with antistatic properties. They thus combine the highest strength and durability on the market of the already established SYNCHROCHAIN CARBON timing belts and the advantages of antistatic belts.
They open up the field of applications for polyurethane belts in flammable, explosive or electrostatic-sensitive environments with simultaneous extreme applications, where antistatic properties are desired or even mandatory.
Antistatic properties are maintained throughout the service life.
CONTI SYNCHROCHAIN SUPREME Timing Belts in the TYMA CZ Eshop
Inquire about the belts via the provided inquiry form. In response, we will inform you of the availability of the desired design with regard to the current offer, or the manufacturer's production capabilities.
Like the SYNCHROCHAIN CARBON, the SYNCHROCHAIN SUPREME transmits maximum torques and is suitable as areplacement for chain drives. In addition, as amaintenance-freecomponent, its resistance to aging makes it very suitable forlong-term applications– even in demanding environments.
Added to this is itsantistatic property, which goesfar beyond ISO 9563. This is because the standard only requires electrical conductivity on delivery. Synchrochain Supreme, on the other hand, ensures antistatic properties over its entire service life.
Applications therefore range from air-cooled heat exchangers and energy recovery systems to petroleum refineries, geothermal power generation, grain silos and processing plants, sawmills, mining and chemical processing.
CONTI SYNCHROCHAIN SUPREME Advantages
The most powerful timing belts
Made of highly resistant polyurethane and with carbon tensile fiber
Their strength corresponds to CONTI SYNCHROCHAIN CARBON belts
Maintenance free
Suitable for reverse flexing
Antistatic property according to ISO 9563 for the entire service life

CONTI SYNCHROCHAIN SUPREME in the TYMA CZ Eshop