CONTI-V MULTIRIB ELAST Poly-V-Belts
CONTI-V MULTIRIB ELAST special V-ribbed belts with polyamide (nylon) tensile fibers intended for drives with fixed axial distances without tension pulley are manufactured according to ISO 9982 (DIN 7867).
The belts contains a special nylon tension member which is elastic and allows the belt to be tensioned during assembly. During operation, the belt remains tensioned with the necessary tensioning force.
Low electrical conductivity – for compliance with requirements to ISO 1813.
Belts Construction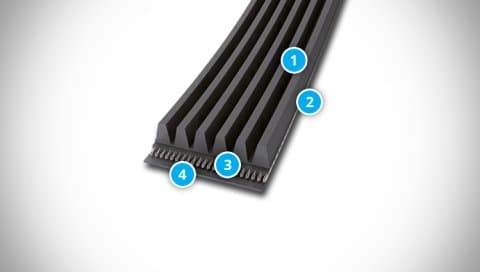 Synthetic rubber ribs
Embedding compound
Polyester tension member
Polyamide cover fabric
Belts Fields of Use
The CONTI V® MULTIRIB ELAST V-ribbed belts are ideal for serpentine drives with fixed center distances without separate tension takeups. The most common applications are in compressors without tensioning mechanism, in roller tracks and in the automotive industry.
The belts for household appliances, washing machines, dryers and others form a separate group. However, these belts are usually only available from the service department.
Belts Characteristics
High transmission power and long life, almost vibration-free operation
Multi-shaft drive with fixed axial distances without tensioner pulley
Implementation of large gear ratios
Temperature resistance from −30 °C to +80 °C
Antistatic properties according to ISO 1813
Belts Code Description
Example:
6 PK 1035 ELAST
| Code Part | Description |
| --- | --- |
| 6 | Number of ribs |
| PK | Profile |
| 1035 | Belt length in mm |
| ELAST | Nylon tension member |
Belts Certification
Documents for Download
Question about the Belts Category
Do not hesitate to contact us with any questions about products in this category.