TB 4030-95
Taper Lock Bush
Price for you :
Price without VAT: 113.08€
Price including VAT: 136.83€ with VAT
Catalogue price excluding VAT:
115.38€
At supplier, we usually ship within 2 weeks Usual time this product is ready for shipping. Actual availability may vary due to unforeseen circumstances in exceptional cases.
Bush Parameters
No. of grooves/teeth:
-
No. of grooves/teeth
V-pulleys and Poly-V pulleys number of grooves, timing pulleys and sprockets number of teeth.
Brand:
-
Brand: -
This standardized product may come from different manufacturers. We will provide you with the currently supplied brand upon request.
Pitch diameter Dw (mm):
146,00
Width (mm):
76,20
Width (mm)
Face width.
Material:
Gray Cast Iron
Material
In the TYMA Product Catalogues you can find this material also described with the abbreviation GG.
Bush Description
TB 4030-95 is a standard Taper Lock bush intended for fastening pulleys, wheels, shaft couplings and other components to shafts. It is produced from gray cast iron.
Taper Lock bushes have a conical outer surface and a cylindrical inner bore with H7 tolerance including a standardized keyway.. Once fixed, the component is capable of transmitting torque while being secured against axial displacement.
Bush Fields of Use
The TB 4030 Taper Lock bushes are used in a variety of industrial applications.
They are used to fix standard and non-standard V-belt, timing and flat pulleys, sprockets, TB hubs, shaft couplings and other components.
Bush Material
Gray cast iron GG20.
Other materials to order.
Notice
The bushes have Whitworth threads and the dimensions of the housings are derived from the original inch dimensions.
Documents for Download
TYMA CZ Data Sheets
Czech and English (PDF 460.54 kB)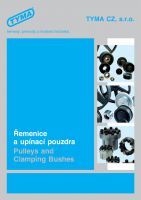 TYMA CZ Catalogue
Czech and English (PDF 3.64 MB)