HTD Timing Belts
HTD timing belts are the most widespread type of drive belts for industrial applications. They enable economic drive solutions in the lower and middle performance range in well-proven quality.
They provide high power transmission and low noise even at high speeds. They are made of highly durable rubber compound with a glass cord tension member. The teeth are protected by a special impregnated fabric. The wide variety of profiles and sizes allows very different applications.
Belts Construction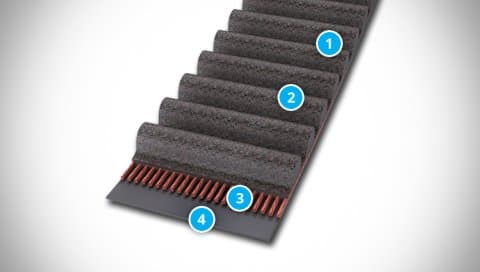 Polyamide fabric
Synthetic rubber teeth
Glass cord tension member
Synthetic rubber backing
Belts Fields of Use
The HTD timing belts are used in virtually all industrial applications, from compact drives in small household appliances, tools and the automotive industry to large drives in heavy mechanical engineering.
Belts Characteristics
High transmission power and long life
Conditionally resistant to oil
Suitable for tropical climates
Temperature range depending on application from −20 °C to +100 °C
Maintenance-free
Belts Code Description
Example:
HTD 8M-1200-20 CONTI SYNCHROBELT
| Code Part | Description |
| --- | --- |
| HTD | Type of belt |
| 8M | Profile |
| 1200 | Belt length in mm |
| 20 | Belt width in mm |
| CONTI SYNCHROBELT | Type of belt |
Documents for Download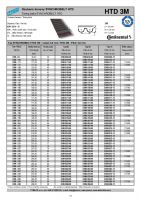 TYMA CZ Data Sheets
Czech and English (PDF 1.17 MB)
TYMA CZ Catalogue
Czech and English (PDF 4.54 MB)
ContiTech Catalogue
English and German (PDF 8.98 MB)