EAGLE 10M Polyurethane Open-Ended Timing Belts
Polyurethane self-guiding open-ended EAGLE timing belts with H.O.T. 10M profile are made from thermoplastic polyurethane, which has high dimensional stability and wear resistance, and steel tensile fiber, in special cases aramid or stainless steel tensile fiber.
The open-ended belts can be welded into endless belts.
Products are sorted by name in ascending order.
Products are sorted by name in ascending order.
Belts Construction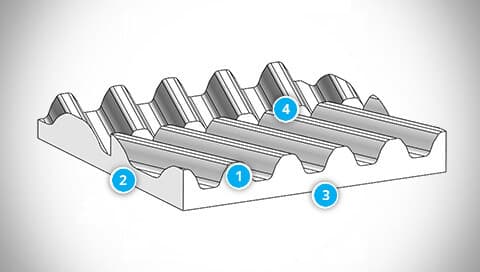 Polyurethane helical offset teeth
Steel tension member
Polyurethane back
Nylon covering fabric on the teeth
Belts Fields of Use
EAGLE 10M polyurethane timing belts are used in special applications where a self-guiding belt that is not guided in the guide line or by pulley flanges is required. At the same time, these belts have significantly lower noise and vibration than other profiles with straight-cut teeth.
Belts are used in high-precision positioning and sorting applications, single-purpose machines, woodworking, packaging and food processing machines.
Belts Characteristics
High transmitted power and long life
Resistant to oil, petrol, benzene, UV radiation and ozone
Abrasion resistance
Temperature resistance, depending on the method of use, from −30 °C to +80 °C
Up to 19 dB noise reduction compared to straight tooth timing belts
Arrow gearing has self-guiding capabilities, no belt guidance is necessary
Very quiet operation and extremely low vibration
Aging and ozone resistance
Belts Code Description
Example:
EAGLE 10M-25 PAZ (White)
| Code Part | Description |
| --- | --- |
| EAGLE | Type of polyurethane helical offset tooth timing belts (SILENTSYNC) |
| 10M | Belt profile and tooth pitch in mm |
| 25 | Belt width in mm |
| PAZ | Belt surface layer |
| White | Belt color |
Belts Colors
Polyurethane self-guiding open-ended EAGLE timing belts are produced as standard in white with gray fabric on the teeth (PAZ). The exception is the belts in the EAGLE 5M profile, which are produced in black with black fabric on the teeth (PAZ).
Nylon fabric on the teeth (PAZ) is automatically standard on EAGLE helical offset tooth timing belts. It serves to protect the teeth and reduce the coefficient of friction.
Documents for Download
TYMA CZ Data Sheets
Czech and English (PDF 903.91 kB)
TYMA CZ Catalogue
Czech and English (PDF 4.54 MB)
Belt Manufacturer Profile
Elatech, a Company of the SIT S.p.A. Group, is fully dedicated to the research, development and manufacture of polyurethane belts for industrial applications.
SIT belongs to a large industrial group that dates as far back as 1838. Today, thanks to over 50 years of specific experience in power transmission and a close-knit team of highly qualified professionals, the Group engages in constant technological innovation in order to offer the best application solutions in mechanical power drives.
Their research and development are based in Italy, as well as the group's main production and logistics centre. The global contribution given to their customers success is made through their subsidiaries in three continents, which are based in Germany, France, Switzerland, Spain, United States, China and India.