V-Belts 32/D CONTI V
Wrapped V-belts CONTI V® profile 32/D can be used in many and varied branches of industry. Advanced manufacturing processes and high-grade materials form a drive element that ensures excellent operational reliability even under difficult conditions. V-belts are manufactured with fabric jackets and polyester high-strength low-stretch tension members.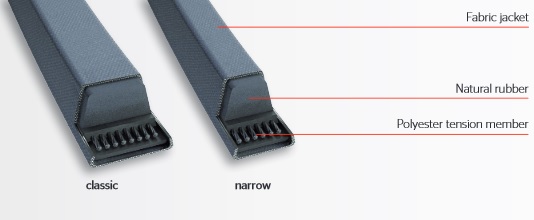 Profiles and dimensions:
Areas of application:
CONTI V® wrapped V-belts are used for demanding drive applications in mechanical engineering from precision mechanics to heavy machine construction.
Properties:
- electrically conductive according to ISO 1813
- suitable for temperatures ranging from -55°C to +70°C
- matched set L=L (from 1000 mm)
- electrically conductive in accordance with ISO 1813
- conditionally resistant to oil
- suitable for tropical climates
- dust-proof
Product code:
32X4000Li D158
32 - profile; 4000Li - inside length in mm, D - profile; 158 - belt length in inch
Length range Li(mm): 2000 - 13208
DOWNLOADS: