CONTI-V ADVANCE SPB Narrow-Section V-Belts
CONTI-V ADVANCE narrow V-belts amplified for transmitting high powers and speeds in ADVANCE SPB design are wrapped according to ISO 4184 (DIN 7753).
The belts are made of special fibre reinforced synthetic rubber compound and a reinforced low-stretch polyester tension member, which ensures increased power output and longer service life, higher impact resistance and transverse stiffness and high temperature and chemical resistance.
Products are sorted by name in ascending order.
Products are sorted by name in ascending order.
Belts Construction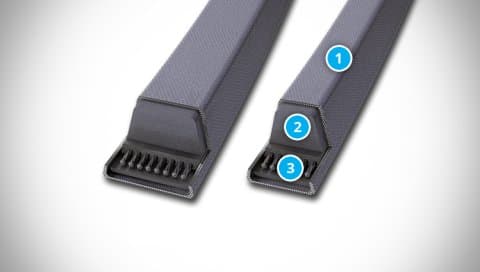 Fabric jacket
Fiber-reinforced synthetic rubber
Polyester tension member
Belts Fields of Use
The CONTI-V ADVANCE wrapped heavy-duty V-belts were specially developed for high-performance drives in general engineering applications.
Typical application fields are compressors, fans, crushers, paper and chemical industry, cement works, mining and many other areas.
Belts Characteristics
Over 40% greater performance than standard wrapped V-belts
Narrower transmission design
Higher efficiency, longer service life
Improved length stability, reduced maintenance
Use of standardized SPB pulleys
Design L = L - constant tolerance of belts in the set, minimum extension
Temperature resistance from −30 °C to +80 °C
Antistatic properties according to ISO 1813
Belts Code Description
Example:
SPB 3150 Ld CONTI-V ADVANCE
| Code Part | Description |
| --- | --- |
| SPB | Profile |
| 3150 Ld | Datum length in mm |
| CONTI-V ADVANCE | Type of belt |
Belts Certification
Notice
General factory certificates are not sufficient for belts used in potentially explosive atmospheres.
If a test report according to ISO 1813 and ISO 9563 is required for the application, it is necessary to inform us of the request for delivery of belts including the certificate when ordering them (when ordering belts via Eshop, please write this request in the "Note" field before by sending the order). The certificate is issued by ContiTech after the test in the production plant.
Documents for Download
Belt Manufacturer Profile
Continental is the world's largest specialist for rubber and plastics technology in the non-tire rubber sector. A division of Continental AG, the company develops and produces functional parts, components and systems for the automotive and other important industries.
ContiTech importance on immediate proximity to customers. ContiTech is active in 26 countries with 75 production sites and more than 40 R&D facilities and sales organizations. The customers around the world stand to profit: Greater safety. Higher efficiency. Closer proximity.
TYMA CZ, s.r.o., is the official distributor of Continental ContiTech Power Transmission Group.