CONTI-V 5, 6/Y, 8 V-Belts
CONTI-V classical V-belts in 5, 6/Y, 8 profile are wrapped according to ISO 4184 (DIN 2215).
The belts are made of highly durable rubber compound and a special tension member, which ensures long service life, high efficiency, high temperature and chemical resistance.
Products are sorted by name in ascending order.
Products are sorted by name in ascending order.
Belts Construction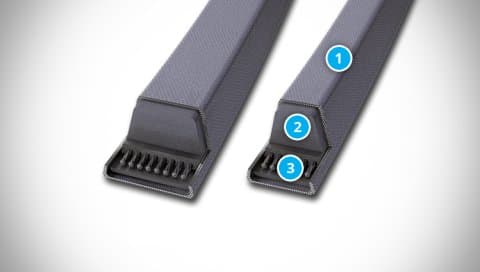 Fabric jacket
Natural rubber
Polyester tension member
Belts Fields of Use
The CONTI-V profile 5, 6/Y, 8 wrapped V-belts are used for demanding drive applications in mechanical engineering.
They are especially suitable for drives with small pulley diameters and for economical drive solutions.
Belts Characteristics
High durability and low maintenance costs
Design L = L - constant tolerance of belts in the set, minimum extension
Electrically conductive according to ISO 1813
Moderate oil-resistance and unaffected by tropical climates
Suitable for temperatures ranging from −55 °C to +70 °C
Dust-resistant
Belts Code Description
Example:
5x260 Li X 79 CONTI-V
| Code Part | Description |
| --- | --- |
| 5 | Profile |
| 260 Li | Inside length in mm |
| X | Cooged belts |
| 79 | Belt length in inch |
| CONTI-V | Type of belt |
Belts Certification
Notice
General factory certificates are not sufficient for belts used in potentially explosive atmospheres.
If a test report according to ISO 1813 and ISO 9563 is required for the application, it is necessary to inform us of the request for delivery of belts including the certificate when ordering them (when ordering belts via Eshop, please write this request in the "Note" field before by sending the order). The certificate is issued by ContiTech after the test in the production plant.
Documents for Download