Banded V-Belts 5V/15J CONTI V
Banded V-belts CONTI V® MULTIBELT profile 5V/15J are used especially on drives with significant impacts as well as highly irregular loads. By virtue of their design, they reliably transmit high torque and power on oscillating drives as well as on drives with large center distances. CONTI V® MULTIBELT banded V-belts are also the ideal solution for friction transmission drives with shafts arranged verically.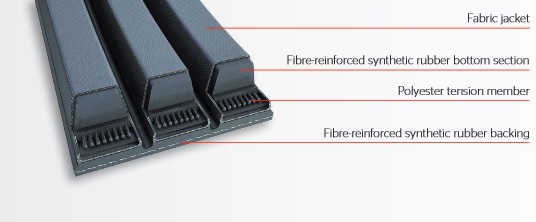 Profiles and dimensions:
Areas of application:
CONTI V® MULTIBELT banded V-belts are used in farm machinery, rock crushers, fans and wherever large irregular forces must be transmitted over long span lengths.
Properties:
- temperature range from -40 °C to +80 °C
- enhanced running smoothness
- electrically conductive in accordance with ISO 1813
- conditionally resistant to oil
- suitable for tropical climates
- dust-proof
Product code:
3/5V1500La
3 - 3-banded / belts type
Warning!!! V- belt pulleys SPZ, SPA, SPB, SPC are usable ONLY for banded V-belts SPZ, SPA, SPB and SPC. For banded V-belts 3VJ, 5VJ, 8VJ and HA, HB, HC, HD must be used special pulleys. It´s because of different distance of pulleys gooves e [mm] !
Length range Lw (mm): 1422 - 8000 (560" - 3350")
Downloads: