Fabric and Felt Conveyor Belts
Conveyor belts with textile surfaces or with a coating of non-woven fabric (felt) are designed for the transport of materials or objects of various kinds.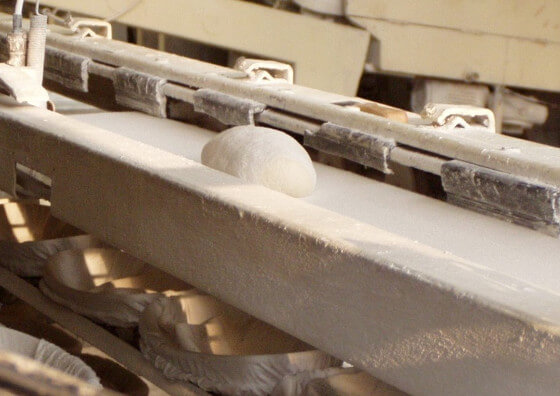 Main Types of Belt Materials
The most used types are cotton and linen natural fabrics or polyamide and polyester synthetic fabrics. These are either woven or non-woven fabrics (felt).
The main types of materials for textile coating are:
FABRIC

Woven fabric

FELT

Non-woven fabric, felt
Belts Construction
The base of the belt consists of a fabric, which is coated on the top and bottom side with FABRIC, FELT or other fabric.
The belt consists of one or more layers that ensure its strength, stability and cut resistance.
Fabric
Bottom cover layer
Inner layer
Top cover layer
Belts Fields of Use
Fabric and felt belts are widely used in the transport of materials in fields such as car manufacturing or food processing, but also in other industries.
Belts Code Description
FABRIC EM8/2 0+0 White AS FG
Code
Description
FABRIC

Product name

EM

Fabric type

8

Force at 1% elongation [N/mm]

2

Number of plies

0

Bottom side: thickness / type of fabric / type of structure

| | |
| --- | --- |
| 0 | Bare fabric |
| 00 | Impregnated fabric |
| 02 | 0.2mm cover layer thickness |
| FE | Felt |

0

Top side: thickness / type of fabric / type of structure

| | |
| --- | --- |
| 0 | Bare fabric |
| 00 | Impregnated fabric |
| 02 | 0.2mm cover layer thickness |
| FE | Felt |

White

Colour

AS FG

Additional information, characteristics:

| | |
| --- | --- |
| AM | Antimicrobial |
| AS | Antistatic |
| CR | Cold resistant |
| EX | For explosive environment |
| FG | Foodgrade |
| FR | Flame retardant |
| HC | Highly conductive |
| HD | Hydrolysis resistant |
| HR | Heat resistant |
| IR | Impact resistant |
| M1 | Fine matt surface |
| M2 | Rough matt surface |
| NF | Non-friable fabric |
| NL | No logo |
| / 2.2 | Total belt thickness 2.2@nbsp;mm |
| / 3000 | 3000 Standard production width 3000 mm |
Belts Joints
Joints can be made depending on the material of which the particular belt is made. You will find the exact information in the technical documentation of the selected belt.
| Joint Type | Description | Illustration |
| --- | --- | --- |
| Simple Finger Splice | A simple punched splice, that is joined into an endless belt by heat on a splicing machine. It is performed on belts with one fabric layer. | |
| Double Finger Splice | Combined splice. First the belt must be separated into individual layers, which are then prepared separately for splicing. On the splicing machine, the layers are subsequently joined into an endless belt by heat. It is performed on multilayer belts. | |
| Anker A Wire Hooks | Wide range for use in all operations from packaging lines, pharmaceutical industry, food industry, laundries. These are the most used connectors for PVC belts. | |
| Anker G Lacing | Basic connection with lower strength, for which no installation jig is required. Ideal for undemanding joints. It is used especially by customers who do not connect belts too often. | |
| Alligator RS – Ready Set | Easy installation, good strength and possible to use for pulleys with small diameters. Ideal for sorting lines, applications in agriculture, etc. | |
In addition to the above-mentioned most common types, it is possible to connect belts by other methods according to the requirements of the specific application. Our specialists will be happy to provide you with more information.
Belts Surface Structure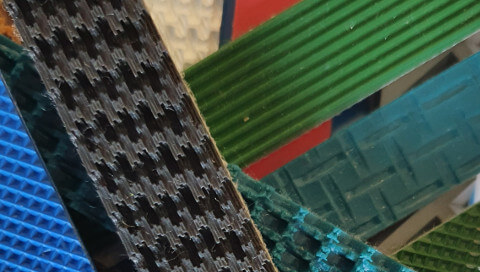 The surface structure ensures the specific properties of the belt. Applications range from easy separation of the product from the belt to the use of surface adhesion in technological processes or for inclined transport.
The surface structures can be on the top or bottom cover layer. The choice of structure depends on the properties of the transported product.
There are many types of structures in the product range. The most common can be found in the Overview of Standard Surface Profiles (PDF file for download).
Belts Accessories
Guides
Guide profiles ensure direct belt guidance and prevent belt movement on the rollers. The result is a smooth guidance without a polygon effect, which is also suitable for higher speeds.
Profiles made of PVC, polyurethane or polyester are welded or glued to the bottom side of the conveyor belt.
The V-profile can also be used as a transverse carrier or side edge for transporting material.
The most common way of guiding the belt is a V-guide.
| Profile Type | Description | Illustration |
| --- | --- | --- |
| Full V-Profile | The smooth, clean design of the wedge is less prone to contamination. | |
| Lightweight V-Profile | On the bottom side of the belt there is a wedge with pressed teeth, which allow easier bending and thus smaller cylinder diameters than solid wedges. | |
In addition to the V-profiles, the guide profiles can also be square. However, their use is far from numerous. If you are interested in implementing square guide profiles, please contact us.
Side Walls
BORDOFLEX side walls made of PVC or polyurethane are welded on the sides to the top of the belt.
Side walls are used for the transport of bulk materials and for the transport of material at an angle. They prevent spillage or loss of materials.
Transverse Cleats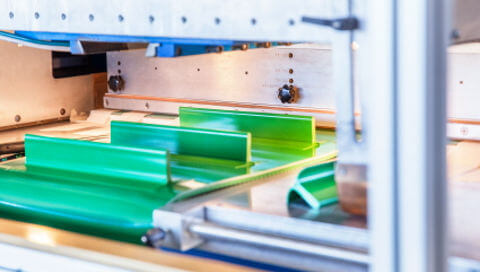 Transverse cleats made of PVC, polyurethane or polyester on top of a belt for inclined/declined transport. They prevent the material from sliding or falling.
The possibilities of their shapes and fastening are wide and are based on the used material of the belt, as well as on the requirements for optimizing the function of transporting the material or objects.
Additional Belts Modifications
Punching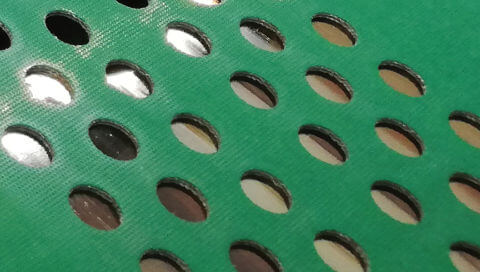 Punching of conveyor belts is performed for the transport of products using vacuum and for applications with photocell control.
Punching is performed on punching machines, which are able to produce punching in a precisely defined arrangement.
AMSEAL Sealed Edges
The AMSEAL sealed edge system guarantees reliable protection of the belt edges. It prevents fraying and thus prevents the penetration of bacteria, oils and fats into the belt structure.
The AMSEAL edge protection completely seals the edge of the belt with a thermoplastic strip. It increases the safety and hygiene of food production, increases the life of the belt and enables easy cleaning.
It is most often used in the food industry, processing of meat, fish, fruit, milk and other foods, in bakeries and other operations.
Documents for Download
Question about the Belt Category
Do not hesitate to contact us with any questions about products in this category.
Manufacturer Profile
Founded in 1950, Ammeraal Beltech is a global market leader in the design, manufacturing, fabrication and servicing of high-quality, high-performance process and conveyor belts, available today in 150 countries around the world. You can find their products almost in all industries. They employ over 2,750 people in the business.
They operate 10 manufacturing sites in Europe, the USA, Canada and Asia. They have sales and fabrication centres at over 80 sites worldwide and they have own subsidiaries in more than 25 countries.
Since 2012, our company has been an official distributor.