CONTI-V MULTIRIB Classical-Section Poly-V-Belts
CONTI-V MULTIRIB classic V-ribbed belts for transmissions with small pulley diameters, large transmission ratio, high speeds and double-sided belt bending are manufactured according to ISO 9982 (DIN 7867).
The belts combine the high flexibility of flat belts with the first-rate power transmission of V-belts. These belts enable economic solutions even under difficult drive conditions, such as large transmission ratios, high belt speeds, serpentine drives, small pulley diameters and flexing/reverse tensioning idlers.
Belts Construction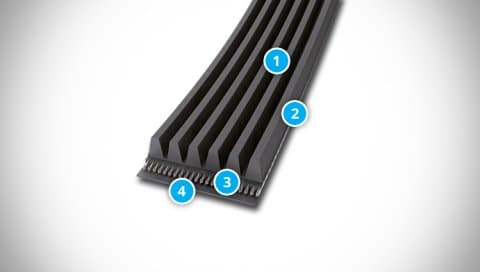 Synthetic rubber ribs
Embedding compound
Polyester tension member
Polyamide cover fabric
Belts Fields of Use
The CONTI V® MULTIRIB (Classical) V-ribbed belts are ideal for serpentine drives and large transmission ratios. They cover an extremely wide spectrum of applications, ranging from household appliances, tools, automotive industry to heavy-duty industrial machinery.
Belts Characteristics
High transmission power and long life, almost vibration-free operation
High permissible peripheral speed up to 60 m/s
Implementation of large gear ratios
Temperature resistance from −30 °C to +80 °C
Antistatic properties according to ISO 1813
Belts Code Description
Example:
1168 PJ-6 CONTI-V MULTIRIB
| Code Part | Description |
| --- | --- |
| 1168 | Belt length in mm |
| PJ | Profile |
| 6 | Number of ribs |
| CONTI-V MULTIRIB | Type of belt |
Belts Certification
Documents for Download