CONTI-V MULTIRIB PK Poly-V-Belts
CONTI-V MULTIRIB classic V-ribbed belts in PK profile for transmissions with small pulley diameters, large transmission ratio, high speeds and two-sided belt bending are manufactured according to ISO 9982 (DIN 7867).
The belts combine the high flexibility of flat belts with the first-rate power transmission of V-belts. These belts enable economic solutions even under difficult drive conditions, such as large transmission ratios, high belt speeds, serpentine drives, small pulley diameters and flexing/reverse tensioning idlers.
Products are sorted by name in ascending order.
Products are sorted by name in ascending order.
Belts Construction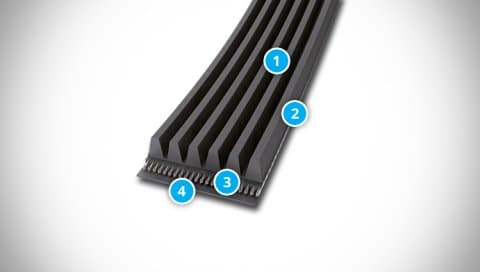 Synthetic rubber ribs
Embedding compound
Polyester tension member
Polyamide cover fabric
Belts Fields of Use
The CONTI-V MULTIRIB profile PK V-ribbed belts are ideal for serpentine drives and large transmission ratios. They cover an extremely wide spectrum of applications, ranging from household appliances, tools, automotive industry to heavy-duty industrial machinery.
Belts Characteristics
High transmission power and long life, almost vibration-free operation
High permissible peripheral speed up to 60 m/s
Implementation of large gear ratios
Temperature resistance from −30 °C to +80 °C
Antistatic properties according to ISO 1813
Belts Code Description
Example:
1200 PK-8 CONTI-V MULTIRIB
| Code Part | Description |
| --- | --- |
| 1200 | Belt length in mm |
| PK | Profile |
| 8 | Number of ribs |
| CONTI-V MULTIRIB | Type of belt |
Belts Certification
Documents for Download