SIT SERVOPLUS Bellows Couplings
SIT SERVOPLUS bellows couplings are all-metal torsionally rigid bellows couplings.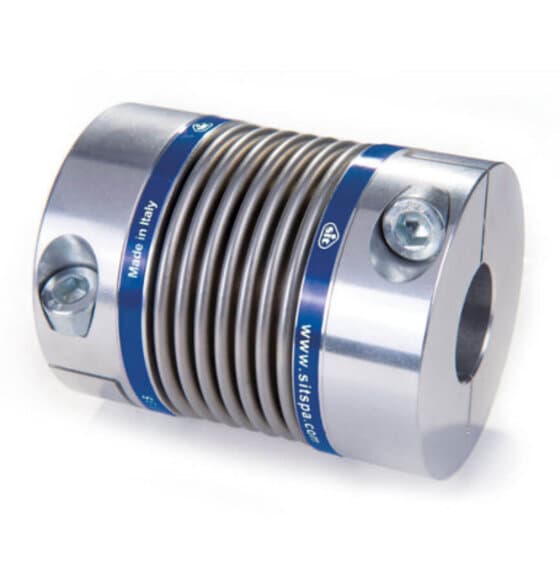 Couplings Description
SIT SERVOPLUS bellows couplings transmit torque by means of a highly resistant stainless steel bellows element, which is connected to metal hubs on both sides.
The couplings are able to compensate for radial, angular and axial misalignments.
Couplings Fields of Use
SIT SERVOPLUS shaft couplings are designed for the highest requirements in a wide range of industries, especially machine tools, testing machines, fine mechanics, dynamometers and many other machines where very small backlash is required.
They are also used in the food, chemical, paper, metalworking and automotive industries.
Documents for Download
Question about the Shaft Coupling Category
Do not hesitate to contact us with any questions about products in this category.
We also provide design and calculation of transmission components, including shaft couplings. In the case of your interest in this service, use the detailed Transmission Drive Design Form.
Shaft Coupling Manufacturer Profile
The group SIT S.p.A develops, engineers, manufactures and distributes high quality solutions and components for power transmission for industrial applications of excellence worldwide, with the aim of increasing the productivity of its customers' machines and systems. With operations on 3 continents, SIT manufactures pulleys, rubber and polyurethane belts, drive couplings, locking assemblies and a wide range of accessories.
SIT belongs to a large industrial group that dates as far back as 1838. Today, thanks to over 50 years of specific experience in power transmission and a close-knit team of highly qualified professionals, the Group engages in constant technological innovation in order to offer the best application solutions in mechanical power drives.