SPB 8500 Ld / 5V 3350 - 15N8509 SWR
V-Belt
Price for you :
Price without VAT: 141.24€
Price including VAT: 170.89€ with VAT
Catalogue price excluding VAT:
144.10€
In Stock We update the stock availability information every 2 hours.

The goods we have in stock are usually ready for shipping or personal collection no later than the next working day. In case of personal collection, please do not come to pick the goods up before we contact you that the goods are ready.
Belt Parameters
Profile:
5V/15N
Profile
Multiple belts: profile – no. of ribs. Caution! The number of ribs refers to the number of belt protrusions = the number of teeth on the pulley!
Délka L2 (mm):
8509,00La
Length L
Li - inside lenght, Ld - pitch length, La - outside length, Le - effective length. Timing belts z = no. of teeth.
Material:
Natural Rubber
Material
In the TYMA Product Catalogues you can find this material also described with the abbreviation NR.
Belt Description
SPB 8500 Ld / 5V 3350 - 15N8509 SWR is narrow V-belt for the transmission of increased power and speeds wrapped according to ISO 4184 (DIN 7753).
The belts are made of highly durable rubber compound and a special tension member, which ensures long service life, high efficiency, high temperature and chemical resistance.
Belt Construction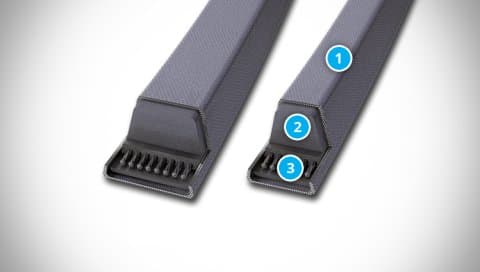 Fabric jacket
Natural rubber
Polyester tension member
Belt Fields of Use
The CONTI-V profile SPB wrapped heavy-duty V-belts meet the strongent requiremets of modern drive technology and pave the way for new applications in all areas of mechanical engineering, especially heavy machine construction.
Typical application fields include compressors, fans, crushers, paper and chemical industry, mining and many other areas.
Belt Characteristics
High durability and low maintenance costs
Electrically conductive according to ISO 1813
Suitable for temperatures ranging from −55 °C to +70 °C
Design L = L - constant tolerance of belts in the set, minimum extension
Conditionally resistant to oil
Suitable for tropical climates
Dust-proof
Belt Certification
Notice
General factory certificates are not sufficient for belts used in potentially explosive atmospheres.
If a test report according to ISO 1813 and ISO 9563 is required for the application, it is necessary to inform us of the request for delivery of belts including the certificate when ordering them (when ordering belts via Eshop, please write this request in the "Note" field before by sending the order). The certificate is issued by ContiTech after the test in the production plant.
Documents for Download
Belt Manufacturer Profile