Module 2.5 Spur Gears
Module 2.5 Spur Gears are machine components that convert rotary motion and transfer mechanical energy from one shaft to another. They are mainly used for gears with a constant ratio and with a small axial distance of the shafts.
They are supplied in modules M1 to M8. The design of the gears is either with or without hub (flat wheels).
The gears we offer have straight teeth and an angle of engagement of 20°.
Caution
The spur gears in a particular gear must have the same module.
For more complex and accurate requirements, it is necessary to use special gears designed and manufactured by specialized suppliers directly for the application.
Products are sorted by name in ascending order.
Products are sorted by name in ascending order.
Spur Gears Fields of Use
Spur gears are designed for general use in mechanical engineering.
The standard spur gears with straight teeth we supply are designed mainly for basic and simpler constructions and technical solutions for conveyors, presses, gearboxes, woodworking machines, agricultural machines, but of course also for many other applications.
Spur Gears Material
Steel C45 (ČSN 12050), gearing not hardened.
Some types of steel C45 (ČSN 12050) with hardened teeth (45 to 55 HRC).
Spur Gears Code Description
Example:
OK M2.5 Z40 N - with Side Hub (Steel)
| Code Part | Description |
| --- | --- |
| OK | Spur Gear |
| M2.5 | Module |
| Z40 | Number of teeth |
| N | With-hub design |
| with Side Hub (Steel) | Gear design and material |
Documents for Download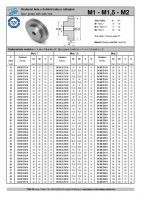 TYMA CZ Data Sheets
Czech and English (PDF 1.05 MB)