Timing Belts CONTI SILENT SYNC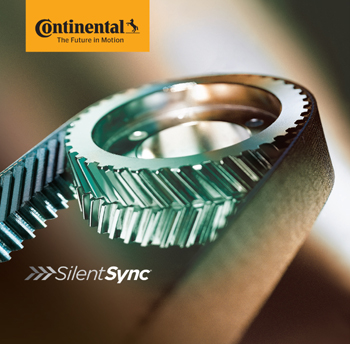 CONTI SILENTSYNC- exclusive system of engineered sprockets and belts
The new SilentSync offers a powerful innovation in synchronous drive systems. With up to 25% more power capacity* and static conductivity**, it's a revolutionary upgrade from previous models – and even more advanced than standard round-tooth belts and chain drives.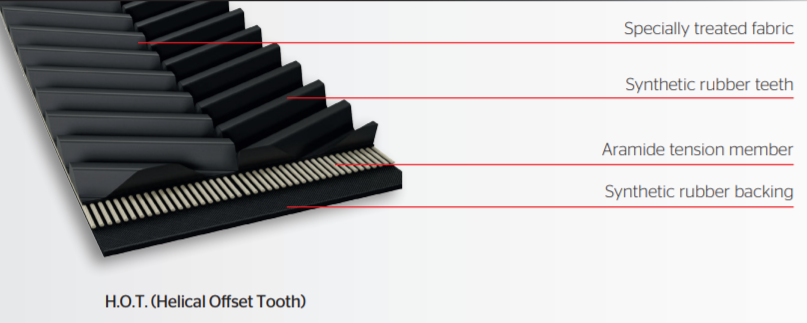 SilentSync advantages:
Up to 25% more power capacity
Static conductivity
Up to 19dB quieter than straight tooth belts
Over 1,500 possible sprocket combinations
Rated for continuous service at 200° F
Up to 98% energy efficiency
SilentSync's patented Helical Offset Tooth (H.O.T.) design merges belt and sprocket into the quietest, smoothest and one of the most compact synchronous drive packages available. The result is a continuous rolling tooth engagement that reduces vibration and improves the overall efficiency of your drive system.
SilentSync offers the following:
Aramid Tensile Member – pound for pound, stronger & more flexible than steel to handle today's drive design. Resists fatigue, elongation and shock loads, even in high-torque conditions, so there's no need to retension SilentSync belts once properly installed.
HiBrex® Rubber Compound – resists tooth deformity while increasing tooth rigidity to ensure precise synchronization over prolonged use. Also resists the effects of oils, coolants, heat and ozone for maximum service life.
Plioguard® Facing – proprietary treatment strengthens the tooth, increasing load carrying capacity. Reduces tooth engagement friction, allowing for prolonged belt life and minimal wear while allowing the belts to operate in a wide variety of environments.
Color Spectrum System – color-coded part numbering system of belts and sprockets make it easier to select proper drive combinations. Match the color and you've matched the correct belt and sprocket!
- See more at: www.veyance.com