CONTI SYNCHROFORCE EXTREME Timing Belts
SYNCHROFORCE EXTREME belts are heavy-duty timing belts CONTI SYNCHROFORCE® for high acceleration forces and shock loads.
They are made of a special HNBR compound and glass cord tension member. To deal with the impact loads occurrring in the case of abrupt acceleration and deceleration, the compound is highly resistant to elongation and tearing. It reliably absorbs even maximum surges and guarantees the maintenance-free functioning of the belt in continuous service. A specially finished fabric provides top wear and abrasion resistance.
Belts Construction
Specially finished fabric
Synthetic rubber teeth HNBR
Glass cord tension member
Synthetic rubber backing HNBR
Belts Fields of Use
The CONTI SYNCHROFORCE® EXTREME timing belts are the most durable and powerful rubber timing belts. They are used in transmissions with high shock loads, highest torques and acceleration.
They are typically used in machine tools, presses, textile machines, printing machines, in the automotive industry and many other machines.
Belts Characteristics
High transmission power and long life
Suitable for tropical climates
Temperature range, depending on application, from -30 °C to +130 °C
Antistatic in accordance with ISO 9563
Maintenance-free
Suitable for reverse flexing
Belt Code Description
Example:
HTD 14M-2100-40 EXTREME
| Code Part | Description |
| --- | --- |
| HTD | Profile |
| 14M | Tooth pitch in mm |
| 2100 | Belt length in mm |
| 40 | Belt width in mm |
| EXTREME | Type of belt CONTI SYNCHROFORCE |
Notice
CONTI SYNCHROFORCE EXTREME timing belts are available in HTD 14M and CTD C14M profiles.
Documents for Download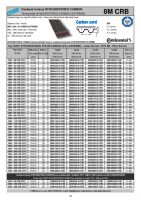 TYMA CZ Data Sheets
Czech and English (PDF 599.57 kB)
TYMA CZ Catalogue
Czech and English (PDF 4.54 MB)
ContiTech Catalogue
English and German (PDF 8.98 MB)
Belt Manufacturer Profile
Continental is the world's largest specialist for rubber and plastics technology in the non-tire rubber sector. A division of Continental AG, the company develops and produces functional parts, components and systems for the automotive and other important industries.
ContiTech importance on immediate proximity to customers. ContiTech is active in 26 countries with 75 production sites and more than 40 R&D facilities and sales organizations. The customers around the world stand to profit: Greater safety. Higher efficiency. Closer proximity.
TYMA CZ, s.r.o., is the official distributor of Continental ContiTech Power Transmission Group.