CONTI-V AVX10 Automotive V-Belts
AVX10 automotive CONTI V® and CONTI MULTIBELT® narrow-section V-Belts with molded teeth for demanding drives. The belts are made of highly durable rubber compound and a special tension member. Their optimized flanks provide better friction coefficient and higher performance.
Warning
The TYMA CZ focuses mainly on the supply of belts for industrial use. We only store car belts in selected sizes.
To search for belt types by brand and year of car production, we offer a link to an external online catalog:
Belt Structure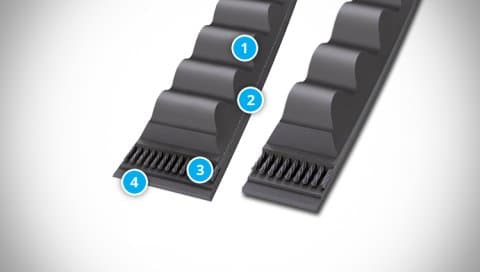 Synthetic rubber bottom section
Embedding compound
Polyester tension member
Cotton cover fabric
Belt Fields of Use
The CONTI V® and CONTI MULTIBELT® profile AVX10 V-Belts are used especially in motor vehicles of all types, where high load and long service life is requiered.
Belt Characteristics
Oil and chemical resistance
Temperature resistance from -30 °C to +80 °C
High power and speed transmission
Maintenance free
Extended service life
Belt Code Description
AVX10×1250
AVX10 - profil; 1250 - La outside length in mm
Documents for Download
Belt Manufacturer Profile
Continental is the world's largest specialist for rubber and plastics technology in the non-tire rubber sector. A division of Continental AG, the company develops and produces functional parts, components and systems for the automotive and other important industries.
ContiTech importance on immediate proximity to customers. ContiTech is active in 26 countries with 75 production sites and more than 40 R&D facilities and sales organizations. The customers around the world stand to profit: Greater safety. Higher efficiency. Closer proximity.
TYMA CZ, s.r.o., is the official distributor of Continental ContiTech Power Transmission Group.