CONTI-V GARDEN 3L V-Belts
3L CONTI V® GARDENNon-Friction V-Belts have a special green or white fabric jacket for optimum slip control and soundless clutch engagement. With their special aramid tension member more deeply set, the belts are suitable for operation with backside tensioners.
Belts Construction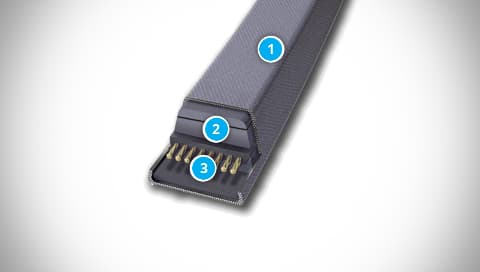 Fabric jacket
Synthetic rubber
Aramid tension member
Belts Fields of Use
The CONTI V® Non−Friction V-Belts are used for agricultural machinery, special drives in the textile and food industries and as a coupling belt where low friction between the belt and pulleys is specially required in order to achieve the coupling effect.
The CONTI V® GARDEN profile 3L V-Belts are used especially for garden machinery.
Belts Characteristics
Temperature-resistant from −30 °C to +80 °C
High elongation resistance, long service life, low maintenance costs
High resistance to backward bending
Resistant to high shock loads
Tropic-proof
Dust-proof
Belts Code Description
Example:
3L 590 CONTI-V GARDEN (10,3 × 1499 Le)
Code Part
Description
3L

Profile

590

Effective length Le in inch (590 × 1/10 i.e. 59 inch)

C

ONTI-V GARDEN

Type of belt

10.3

Belt width in mm

1499 Le

Effective length in mm
Documents for Download
TYMA CZ Data Sheets
Czech and English (PDF 454.65 kB)
TYMA CZ Catalogue
Czech and English (PDF 4.54 MB)
Belt Manufacturer Profile
Continental is the world's largest specialist for rubber and plastics technology in the non-tire rubber sector. A division of Continental AG, the company develops and produces functional parts, components and systems for the automotive and other important industries.
ContiTech importance on immediate proximity to customers. ContiTech is active in 26 countries with 75 production sites and more than 40 R&D facilities and sales organizations. The customers around the world stand to profit: Greater safety. Higher efficiency. Closer proximity.
TYMA CZ, s.r.o., is the official distributor of Continental ContiTech Power Transmission Group.