CONTI-V VARISPEED Variable Speed V-Belts
CONTI-V VARISPEED (Variable Speed) belts are a special type of CONTI V® V-Belts. Variable speed belts are wide V-Belts for drives with infinitely variable speed adjustment. They are made of a highly durable rubber compound with high transverse stiffness for durable and reliable power and speed transmission.
Belts Construction
Fibre-reinforced synthetic rubber bottom section
Embedding compound
Polyester tension member
Cotton cover fabric
Belts Fields of Use
The CONTI VARISPEED® variable speed belts are used in variators and variable speed transmissions in industrial applications such as machine tools, saws, drills, in the textile industry, ironworks and other areas.
Belts Characteristics
Temperature range from -30 °C to +90 °C
Electrically conductive in accordance with ISO 1813
Conditionally resistant to oil
Suitable for tropical climates
Dust-proof
Suitable for clutches
Basic Parameters for Determining the Variator Belt
| Parameter | Range |
| --- | --- |
| Upper rib width | 16 - 100 mm |
| Belt height | 8 - 25 mm |
| Belt lenght | 600 - 5000 mm |
| Flank angle | 20° - 42°, intervals of 2° |
Belt Code Description
Example:
W52×16×1525 Li CONTI-V VARISPEED or ISO - W50×1600 Ld
| Code Part | Description |
| --- | --- |
| W52×16 | Profile |
| 1525 Li | Inside length in mm |
| CONTI-V VARISPEED | Type of belt |
| ISO | Standard code |
| W50 | Profile |
| 1600 Ld | Datum length in mm |
Notice
Due to the diverse use of belts in different areas, there are several production standards:
ISO 1604, DIN 7719/1, RMA/MPTA IP-25 especially for industrial applications
ISO 3410, ASAE S211.4 especially for agricultural purposes
Documents for Download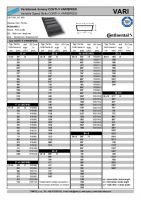 TYMA CZ Data Sheets
Czech and English (PDF 207.59 kB)
TYMA CZ Catalogue
Czech and English (PDF 4.54 MB)
Belt Manufacturer Profile
Continental is the world's largest specialist for rubber and plastics technology in the non-tire rubber sector. A division of Continental AG, the company develops and produces functional parts, components and systems for the automotive and other important industries.
ContiTech importance on immediate proximity to customers. ContiTech is active in 26 countries with 75 production sites and more than 40 R&D facilities and sales organizations. The customers around the world stand to profit: Greater safety. Higher efficiency. Closer proximity.
TYMA CZ, s.r.o., is the official distributor of Continental ContiTech Power Transmission Group.