CONTI-V FO 10/ZX V-Belts
CONTI-V FO classical V-belts with internal teeth for transferring higher powers and speeds in 10/ZX profile wrapped according to ISO 4184 (DIN 2215).
The belts are made of highly durable rubber compound and a special tension member. Their optimized flanks provide better friction coefficient and the molded teeth ensure higher flexibility.
Products are sorted by name in ascending order.
Products are sorted by name in ascending order.
Belts Construction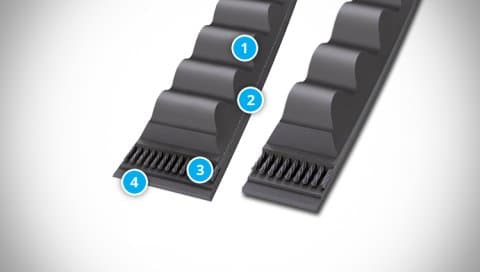 Synthetic rubber bottom section
Embedding compound
Polyester tension member
Cotton cover fabric
Belts Fields of Use
The CONTI-V FO profile 10/ZX V-belts are used for high-speed industrial drives as an alternative to wrapped V-belts to increase service life and reduce the number of belts in sets.
They are used in all areas of mechanical engineering, especially for compact drives with small dimensions, such as compressors, fans, mowers, machine tools and many other applications.
Belts Characteristics
High peripheral speed up to 50 m/s (classic only up to 30 m/s)
Very good flexibility thanks to molded teeth
Design L = L - constant tolerance of belts in the set, minimum extension
Temperature range from −30 °C to +70 °C
Electrically conductive in accordance with ISO 1813
Conditionally resistant to oil
Suitable for tropical climates
Dust-proof
Belts Code Description
Example:
10x1522 Ld / 1499 Li ZX 59 CONTI-V FO
| Code Part | Description |
| --- | --- |
| 10 | Profile |
| 1522 Ld | Pitch length in mm |
| 1499 Li | Inside length in mm |
| ZX | Profile |
| 59 | Belt length in inch |
| CONTI-V FO | Type of belt |
Belts Certification
Notice
General factory certificates are not sufficient for belts used in potentially explosive atmospheres.
If a test report according to ISO 1813 and ISO 9563 is required for the application, it is necessary to inform us of the request for delivery of belts including the certificate when ordering them (when ordering belts via Eshop, please write this request in the "Note" field before by sending the order). The certificate is issued by ContiTech after the test in the production plant.
Documents for Download
Belt Manufacturer Profile
Continental is the world's largest specialist for rubber and plastics technology in the non-tire rubber sector. A division of Continental AG, the company develops and produces functional parts, components and systems for the automotive and other important industries.
ContiTech importance on immediate proximity to customers. ContiTech is active in 26 countries with 75 production sites and more than 40 R&D facilities and sales organizations. The customers around the world stand to profit: Greater safety. Higher efficiency. Closer proximity.
TYMA CZ, s.r.o., is the official distributor of Continental ContiTech Power Transmission Group.