CONTI SYNCHROCHAIN ​​CARBON in Stock
CONTI SYNCHROCHAIN ​​CARBON belts for the highest transmitted powers and loads replace the older SYNCHROCHAIN ​​series.
CONTI SYNCHROCHAIN ​​CARBON timing belts with carbon tension member represent the top of the world's most powerful timing belts designed for the highest transmitted powers and loads. In order to be able to provide you with short delivery times, we have decided to stock all common sizes of this exceptional range of belts.
At the same time, we would like to inform you that the production of previously concurrently produced CONTI SYNCHROCHAIN ​​belts with aramid tension member was terminated in 2021 and only the last pieces from stock are being sold. New CONTI SYNCHROCHAIN ​​belts from the factory are therefore no longer available and will not be available.
CONTI SYNCHROCHAIN CARBON in the TYMA CZ Eshop
Now we can offer the most powerful CONTI SYNCHROCHAIN CARBON timing belts in CTD C8M and C14M profiles in a comprehensive range of sizes directly from stock for immediate delivery.
And what are the specific features of CONTI SYNCHROCHAIN ​​CARBON timing belts?
Comparison of CONTI SYNCHROCHAIN ​​CARBON with Old SYNCHROCHAIN Belts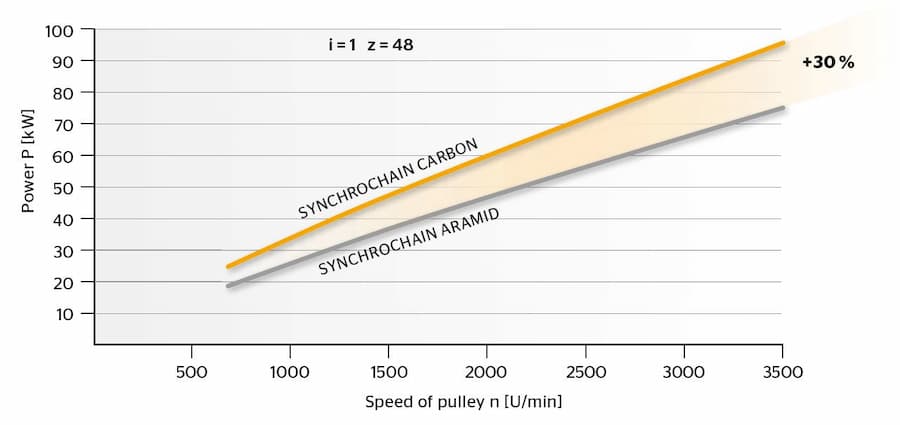 30% Higher Transmitted Power Compared to the Old Series

Better properties are ensured thanks to the use of carbon tension member. The graph below shows exactly the 30% difference in transmitted power.

50% Less Elongation

Minimal preload loss guaranteed by length stability throughout the entire service life.

Longer Service Life
Special Conti Torque Drive Profile (CTD)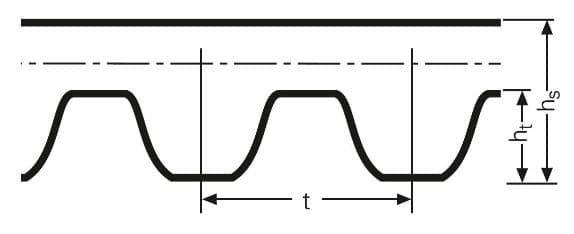 This profile represents a symbiosis of the HTD and STD profiles and combines the advantages of both profiles into one. The lead-up curve on one side and the higher height of the teeth on the other side offer a harmonious progression of teeth engagement at high speeds and therefore maximum smooth running. At the same time, this ensures a high degree of safety against teeth skipping at higher torques.
This profile can be used in combination with the CTD profile pulley, but also with the POLYCHAIN ​​PC GT and FALCON PD GTR profile pulley.
| | CTD C8M | CTD C14M |
| --- | --- | --- |
| Tooth pitch t [mm] | 8.0 | 14.0 |
| Belt thickness hs [mm] | 5.6 | 10.0 |
| Tooth height ht [mm] | 3.4 | 6.1 |
Intelligent Construction in Combination with Exceptionally High-Quality Materials
Thanks to the construction solution and the selected material, even with high torques and high dynamic stress, a calm, quiet and extremely reliable transmission of power is ensured.
The back and teeth of the belt are made of light, yet highly durable polyurethane. In addition, the teeth are protected by a fabric with a special coating with a minimal coefficient of friction, high strength, stiffness and high resistance to abrasion. The fabric exactly copies the required CTD profile.

CONTI SYNCHROCHAIN ​​CARBON Belts in the TYMA CZ Eshop
Pulleys for CONTI SYNCHROCHAIN ​​CARBON in the TYMA CZ Eshop