PC GT Timing Pulleys for CONTI SYNCHROCHAIN CTD Belts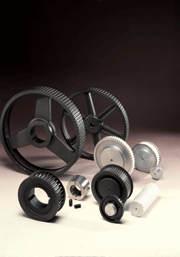 PC GT - CTD Timing Pulleys for timing belts CONTI SYNCHROCHAIN® CTD and belts Polychain PC GT, G&Y Falcon.
Profiles and dimensions:
Product code:
08M - 30 - S36
08M - profile, 30 - teeth, S36 - belt width = 36 mm
Application:
- PC GT 8M for belts with pitch 8,00mm of width 12, 21, 36 a 62 mm
- PC GT 14M for belts with pitch 14,00mm of width 20, 37, 68, 90 a 125 mm
Material:
Steel C45, 9 SMn 28K, 9 SMnPb 28 K
Grain cast iron GG20-25
Aluminium alloy AlCuMgPb
Plastic PA6 and 6,6 or POM
Surface roughness: ISO 254
Balance quality grade: ISO 1940 - VDI 2060
Cast iron pulleys at v < 30 m/s must be balanced.
Downloads:
Warning
Items in this group are not part of the Eshop. Prices and delivery terms will be provided via email.
Please enter desired item, design and quantity, and you can send queries using the Inquiry form below.