PC GT 14M Timing Pulleys for SYNCHROCHAIN CTD
PC GT 14M timing pulleys are the basic type of pulleys for SYNCHROCHAIN CTD (Conti Torque Drive) belts.
They are made of ductile iron with a pilot bore or for Taper bush.
They enable to design unique drives for transmission of the highest power and speed.
Pulleys Fields of Use
The PC GT (for Synchrochain CTD) timing pulleys are designed for all types of Synchrochain CTD belts.
They are typically used in high-speed machine tools, compressors, packaging, printing and textile machines and in many other machines. They are also typically used in machines from Asia, especially Japan.
Pulleys Material
Cast iron.
Other materials to order.
| Parameter | Standard |
| --- | --- |
| Surface roughness | ISO 254 |
| Balance quality grade | VDI 2060, ISO 1940 |
Caution
Cast iron pulleys at v < 30 m/s must be balanced.
Pulleys Code Description
Example:
140S-14M-125 (140-C14M-125) TB 4535 (8F, Cast Iron)
| Code Part | Description |
| --- | --- |
| 140 | Number of pulley teeth |
| S | PC GT - CTD - FALCON pulley type |
| 14M | Pitch of teeth in mm |
| 125 | Width of the belt in mm |
| 140 | Alternative code type: number of pulley teeth |
| C14M | Alternative code type: pulley profile and pitch of teeth in mm for CONTI SYNCHROCHAIN CTD belts |
| 125 | Alternative code type: width of the belt in mm |
| TB 4535 | Taper Lock bush type |
| 8F | Type of construction |
| Cast Iron | Bush material |
Documents for Download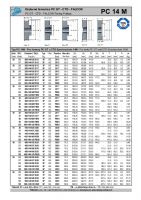 TYMA CZ Data Sheets
Czech and English (PDF 183.61 kB)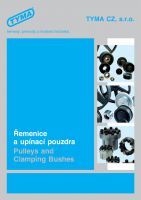 TYMA CZ Catalogue
Czech and English (PDF 3.64 MB)