CONTI-V MULTIRIB POWER Poly-V-Belts
CONTI-V MULTIRIB POWER special V-ribbed belts with aramid tension member fibers intended to transmit the highest performances are manufactured according to the ISO 9982 (DIN 7867).
The aramid tension member excels in extreme resistance and load-bearing capacity. The use of these belts allows to reduce the number of ribs by up to 1/3 compared to conventional V-ribbed belts with polyester tension member.
CONTI-V MULTIRIB POWER
Rib pitch s (mm): 4.70

Length range Lb (mm): 1956 - 6096
Belts Construction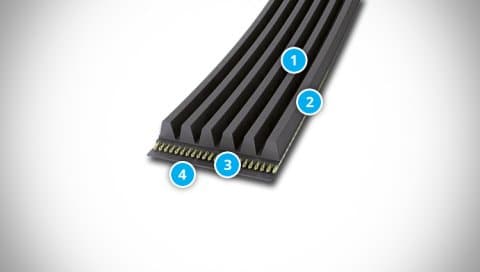 Synthetic rubber ribs
Embedding compound
Aramid tension member
Polyamide cover fabric
Belts Fields of Use
The CONTI-V MULTIRIB POWER (ZAR) V-ribbed belts are ideal for serpentine drives and large transmission ratios. They are usually used as drive belts of compact drives for high power transmission in compressors, coolers, heavy machinery etc.
Belts Characteristics
High transmission power and long life, almost vibration-free operation
High permissible peripheral speed up to 60 m/s
Implementation of large gear ratios
Temperature resistance from −30 °C to +80 °C
Antistatic properties according to ISO 1813
Belts Code Description
Example:
12 PM 3124 (ZAR)
| Code Part | Description |
| --- | --- |
| 12 | Number of ribs |
| PM | Profile |
| 3124 | Belt length in mm |
| ZAR | Aramid tension member |
Belts Certification
Documents for Download