Roller Chains with Attachments
Roller Chains with Attachments are a special type of roller chains.
They are available in various sizes and types, including accessories. It is possible to manufacture a chain tailored to a specific application. The chains can be equipped, for example, with extended or hollow pins, carriers, U-profiles or travel pulleys. They can allow lateral deflection or they can be made with an extended pitch.
Main Types of Conveyor Chains
We will structure the offer of conveyor roller chains according to their manufacturer. The main ones are:
KettenWulf

The German manufacturer KettenWulf offers a large number of sizes and types of roller and special conveyor chains intended for the paper or woodworking industry, bakeries, steel mills and many other industries.

The chains can be made in many different variants according to the required load capacity and resistance. The product range includes chains with carriers, extended or hollow pins, pulleys. The design of the chains, the shape of the distribution of the carriers can be custom-made according to the specific application.

KÖBO

The German manufacturer KÖBO offers a large number of sizes and types of roller and special conveyor chains.

Chains can be made with extended or hollow pins, with different types of attachments, pulleys or with a U-carrier with vulcanized rubber. The shape of the attachment and its placement on the chain can be made according to customer requirements.

ČZ

If you need a smaller number of chains, we recommend to use the ČZ range of roller chains, which are more easily accessible and usually the order is not limited by the minimum production quantity.

ČZ also offers chains with extended pins and various types of carriers, as well as some special types.
Chains Construction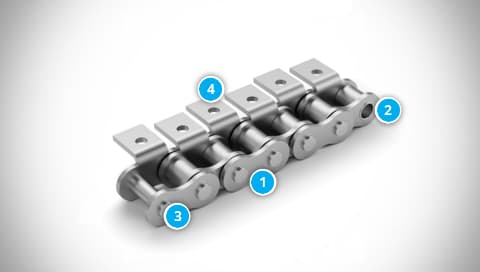 Inner link
Outer link
Pin
Example of carrier (angle carrier with 1 hole)
Chains Fields of Use
Conveyor roller chains are designed for use in light and heavy industry.
They are used in conveyor systems, in the woodworking, paper industry, packaging machines and many other devices.
Chains Material
Steel, in some cases stainless steel.
Chain Code Description
Example:
16B-1 + K1 KÖBO DIN 8187
| Code Part | Description |
| --- | --- |
| 16B | Type of conveyor roller chain |
| 1 | Simplex |
| K1 | With K1 angle carrier on each link |
| KÖBO | Manufacturer |
| DIN 8187 | The chains are standardized according to the ISO 606 standard (Series B), European Series B, ČSN 02 3311, DIN 8187 |
Documents for Download
Question about the Chain Category
Do not hesitate to contact us with any questions about products in this category.