Timing Pulley Flanges
Flanges are used to keep timing belts operating on their pulleys – they are designed to secure the lateral guidance of the timing belt.
To prevent the belt jumping out of the pulley, one flange must be placed on each side of the belt, at least.
Timing pulley flanges are steel rings of various sizes according to sizes of various timing pulleys profiles. Flanges are produced in various thicknesses; galvanized or with no surface treatment. They can be also blackened on demand.
To mount the flange on the pulley, it is necessary to make a shoulder with a small overlap on the pulley and then press it out. This secures the flange and keeps it fastened.
Flanges Fields of Use
Timing pulley flanges are designed for the production of timing pulleys of any shape. They are used in cases where a standardly manufactured timing pulley cannot be used and it is necessary to make the pulley from a rod and provide it with one or two flanges.
As well as the timing pulleys, they are used in machine tools, packaging machines, printers, single-purpose machines, in the food, paper and glass industries and in many other industries.
Flanges Material
Steel.
Other materials on demand.
Surface Finish
No s

urface treatment

Zinc plated
Blackened (on demand)
Flanges Code Description
Example:
Type 503 (THK = 0.5 mm, Zinc-Plated)

| Code Part | Description |
| --- | --- |
| Type 503 | Flange type (sizes can be found in the data sheet) |
| THK = 0.5 mm | Thickness |
| Zinc-Plated | Surface finish of flange |
Documents for Download
TYMA CZ Data Sheets
Czech and English (PDF 103.19 kB)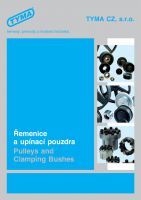 TYMA CZ Catalogue
Czech and English (PDF 3.64 MB)